So, what is CRM? Before you scratch your heads and explore the surface level facts you know about it, let me introduce you to what a CRM actually is and what are the essential features of CRM that are giving multiple organizations a competitive edge.
In today's generation, we come across several principles and tactics for the success of an enterprise or a business – from product development to sales, to innovation, to branding and much more, which does matter.
But not everything that matters genuinely counts. What actually proved to stand out, the one business trait that nobody discusses about much these days are 'relationships'.
Maintaining relationships acts as a catalyst to the growth of any particular business planning to sustain in the market. Just like a human body would collapse without vertebrae or the spinal cord, similarly, there is no business without its niche, without a market of customers who are influenced to buy their product.
That one trait that will add the highest value to the service that you're providing or the product you're selling is the 'customer relationship' that you've maintained throughout your journey, consistently.

The Internet plays a key role by adding humongous value to the existing and newly emerging organizations to tip their businesses and expanding their market of influence.
CRM or customer relationship management is a combination of practices, strategies, and technologies that organizations utilize to manage and analyze customer interactions and database throughout the customer lifecycle, with a vivid goal of improving customer service relationship and assisting in customer retention and driving sales growth.
These are the following topics which i am going to cover in this article,
Table of contents
What is CRM?
Whether you're a small business looking for a place to store information and have it accessible over multiple devices, or you're a large business wanting to Manage customer interactions and focus on improving customer satisfaction, eventually you're going to need a Customer Relationship Management software, if your current process is unable to find solutions to these pressing problems.
CRM is not just about technology, you'll find a balance of people effectively interfering with the customer, through skills training. There are some business processes for efficiently and consistently managing customer interactions and automating appropriate business processes, which proves to be some of the great merits of having a CRM system.
A CRM software is something which is a keystone solution to all your customer management needs, because a business plan without a solid CRM strategy, is a plan that is bound to make your business non-existent within a few months of entering into the marketplace.
Your customers are the single most important asset of your business, one of the major reasons 'why' a business does 'what' it does is 'customers'. A company's product and the type of customers its' product is influencing is what gives an organization a sense of purpose and the inspiration to do it throughout, consistently.
And if you're doing it the right way, you've moulded your path towards exponential economic growth. The required features of CRM is the right way, I'm talking about.
You don't create a product and then sell it to the customers. You create what customers need and then step in the market. The customer comes first and then comes your product. 'Three out of four customers said they spent more money with a company because of positive customer experience'. The relationship that you cultivate with your customer will determine the level of success of your company.
The key to giving customers what they need is in understanding them, traits of CRM is what does that for you. It enables a scheduled practice of structured actions which leads to streamlining of the process of making sure needs are met in a timely manner.
Primary Benefits of CRM:
We might have heard this phrase several times, maybe from someone who owns a large corporation to someone who is a small scale business owner, which is 'Customers are always right'. Which I won't deny, it is a common belief that everyone in sales holds within them. It's true because if you're asking someone to pay you money that you want for your product, they by default have the rights to put demands on your time and resources and have you pander to them. It shows what importance customers hold for your business, if there are no customers, there is no business.
I've come across various businesses who work on their marketing strategies day in and day out, who go at a very granular level when it comes to the appeal and packaging of their products, who've hired one of the best sales coaches in the marketplace to keep their sales team pumped up and achieve groundbreaking monthly targets. But there's this one business strategy nobody talks about and the only business strategy that brings in revenue for the long trade.
That one quality is 'care', I haven't seen a lot of businesses that genuinely care for their customers, businesses that provide services without the motive of revenue in the back of their minds, a service purely based to make the customer satisfied and happy and I've seen only such organizations drown within 5 years of their existence, who don't care about their customers.
I know, a lot of start-ups and the pre-existing businesses need to reverse engineer the way they're playing the game. Genuinely caring for customers is what actually brings in loyalty, and not manipulating them to buy your products. If you genuinely care about your customers, the first step would be to engrave a solid CRM strategy, because it is your relationship with the customers that are ultimately going to help you take a stand in the market.
A CRM strategy is one of the most underrated aspects in the business world where entrepreneurs and investors put the least emphasis on. CRMs are no longer just for large scale organizations with huge databases of customers but are advantageous to even small and medium-sized organizations. Designed to streamline your processes, a CRM can be one of the most powerful management tools in your arsenal.
As a customer, have you ever had a really good experience with maybe a restaurant nearby your apartment – who keep updating you with the new offers coming up, or new dishes they're introducing in the next week, or provide you with exclusive benefits as a result of you being a frequent customer. You wonder how they do it because it's not visible to the customers and their service or product just seems worth every penny of yours.
It's an outcome of having a strong CRM plan. It is what you do when nobody's seeing is what makes the difference. In Millionify we have CRM experts to help you make most out of that.
Today, I'm going to discuss some of the primary benefits of having a CRM within your business:
Boost Customer Satisfaction:
Customer Relationship Management or CRM is used in managing a company's interactions with prospective customers and current customers. It is a strategy designed to help companies increase their productivity and improve customer satisfaction and retention. This strategy is very powerful as it provides a comprehensive view and it helps monitor previous interactions, pending invoice, the status of orders and many others. Many existing businesses are using CRM software in tracking data of an individual client. It is important to know the information of every client a business holds for the sales team to deal with the customers – this enables 'individualized service' for every client.
Steps that we can execute using features of CRM to maintain customer relationships:
CRM helps in finding the customers and potential customers, for us to engage with them.
Feedbacks are the way to success. CRM helps us to keep track of our performance by making the customers to give us feedback.
CRM also opens the window towards the widely spread social media, that can help a business to maintain its existing customers and drive more prospects.
CRM helps to set up a complaint panel for the customers who've had bad experiences so that the company can work and rectify it.
All the existing businesses in the market must know that every customer is judging you by the way you maintain relationships with them, having a CRM strategy automatically gives you a competitive edge over those businesses who don't have one.
Improve Customer Retention and Revenue:
Okay, so it's good that you've got some customers and now your business seems to be rolling up, your months of planning and strategizing finally seems to be working out. But here you need to understand the difference between 'customers' and 'consumers', consumers buy your product probably only once. Customers, on the other hand, bring repeat business, or you can say they're loyal to your product. They don't have to choose when it comes to your products and your other competitors.
Customers are built when you constantly and genuinely 'care' about them and their needs over time. On the contrary, lack of 'care' can make you lose the customers you already have built and hence, customer retention is a crucial aspect every business must ponder on.
Yes there is always potential for new customers in the market, but it is when your existing customers promote your product to their family members, relatives, colleagues, and friends is when your business actually tips and what would make your customers do a word-of-mouth marketing in their warm market is your level of care and the kind of relationship you maintain with them.
A bulletproof CRM strategy is the way to retain your customers and build new customers who bring in repeat business, let me show you three parts of your business where features of CRM help retain your customers.
Data: CRM brings agility to the way you handle customer data. Data is essentially endless and constantly changing. As you grow and build relationships with customers over time, the way you handle this data, the efficiency and speed with which you store and access this information, will be vital to your growth.
Support: Existing customers have a better idea of your service than prospects do, so your strategy to retain the former must fall between engagement and support. Support is perhaps the most overlooked aspect of most businesses. But without consistent support, customers are liable to go elsewhere. So support should always be a top priority. A large portion of it can be automated and handled by the right software without having to do much more work. For instance, CRM can automate support emails to reply with answers to any common questions or to inform the appropriate employee to settle the issue quickly.
Engagement: Engaging your existing customers keeps them interested in your product and business. Because CRM stores every piece of data about your customers, you can tune the content you share and the discussions you drive to the interests of your customer base. This gives you more opportunities and a better chance to up-sell to your existing customers. For instance, having data about customer behaviour and comparing it with data on individual customers will help you decide what you should market and how you should market it. With this information, you'll be able to reach each industry and customer type your business markets to and engage them in ways that relate to them.
Gain Valuable Business Insights:
When you are experiencing growth in your business, it is easy to lose track. It's easy to deviate from the long term vision of your organization and become more revenue driven. I've often seen a deviation of motive over time after a business is in the self-sustaining stage. I've seen businesses only focusing on sales and revenue after one point. It is when your business is in the self-sustaining stage is when it needs the most attention. So, here comes the most critical part which is 'analyzing' what it is that has brought your business to this stage? Reconnection to your primary vision and analyzing your business inside out is that one core execution that's going to take your business from 1 ton.
In this cut-throat retail environment, where companies are brainstorming every day to have the best marketing blueprint, the best sales training, the best advertising taglines and basically to stand-out in the marketplace. Another essential thing which businesses shouldn't ignore is the complete analysis of your business as a whole which would bring you to critical questions like:
Which are the customers more likely to do repeat purchases?
Which are the customers least likely to do repeat purchases?
Which customers lead to most profits over time?
How likely is a customer (or) a customer segment to buy a product similar to one already purchased?
In business, it is not whether you have the right answers, it's whether you have the right questions is what is going to bring a boost.
Better Internal Communication:
All the organizations ranging from a small scale organization to a large scale enterprise are widely being benefited by the merits of CRM. One of the keystone aspects of CRM is for the betterment of communication within the organization. Mostly, enterprise-wide CRM is intended to bring together all functional areas in your company for the common purpose of optimizing the customer experience. An effective CRM tool allows sales, marketing, service, shipping, logistics, IT and finance employees to see what stage a prospect or customer is in and what takes need to be completed in a given time frame.

Shippers, for instance, will get alerts from salespeople when orders are complete and can make similar notifications in return once orders are shipped. This not only aids in customer service, but it allows each employee to answer customer questions on what is going on with their products.

CRM can help an organization's internal communications in many ways. If you have ever worked in an environment where communication was lacking and you did not know what was going on at the best of times, this is something you can closely relate with. This is exactly where CRM comes in and the benefits of using CRM tools is truly realized.
With CRM, everything that relates to the customer is tracked—customer experiences, journeys, details, communications, and requests, amongst other things. This information is then centrally stored and can be accessed by your employees as and when necessary.
It is this central storing of key information that streamlines communications within an organization because all information is accurately stored and easily accessible in a central location in an on-demand and timely format. This helps to immediately improve communications between departments and key players within your organization.
Optimize Your Marketing Efforts:
With such rapid pace of the way organizations are innovating with new and effective marketing strategies, the competition is tough and putting in more than what is required is the demand. But many companies just splurge money into marketing, expecting more than what actually shows up. One important thing about business is that before selling your products to the customers, you must first know the customers. By knowing, I mean to say understanding their purchasing behaviour and analyzing it, implementing thorough research on the demand of the customers and your way of supplying it to them.

We have to accept that in the business world, sales and marketing is the most challenging department, it demands most of your time, energy and brainstorming. But as it is said: 'Insanity is doing the same things over and over again and expecting different results'. Being in the 21st century, we have to be much smarter and effective with our marketing efforts. Having a CRM system within your organization unlocks the doors for optimizing your marketing efforts in many ways. Your CRM is not only your database of record, but it is also the place where marketing and sales connect to create actionable data for both the sales and marketing department. Stated below are the ways of how a CRM software will optimize your marketing execution:
Automated lead management and processing functionality. As organizations begin to rely on a multi-channel approach to their marketing and communication strategy, more emphasis is being placed on the digital portion to generate leads and relay communications to prospects/customers/clients.
Customers expect organization members to know what's "going on" with their accounts.
Customers receive and respond to communications from multiple channels.
Use analytics to identify "where my desired fish are" for targeted marketing/messaging.
27 features of CRM to take your business from where it is, to where you want it to be
1. Contact Management:
Contact management quickly evolved from Rolodex and Filofax systems into desktop-based contact management software and email clients with built-in contact management tools. Yet despite these significant technical advances, many businesses found that their contact management systems fundamentally amounted to little more than a simple database containing names, phone numbers, and notes.

As the categories of sales management and contact management software have grown closer in recent years, enterprises started to appreciate the benefits of unified processes and systems capable of capturing a wider range of business data.
It is said, an average business organization tends to lose about fifty 50% of its customers within a business cycle of five years. This mainly occurs due to poorly met customer needs, which keep changing from time to time. So it becomes increasingly important for an organization to effectively understand the requirements of its customers in an effort to keep them coming back for more.
But it's easier said than done. Keeping track of every customer in a large company can be quite confusing and sometimes impossible. This is where the need for an automated or semi-automated system comes into play.
Contact management is a process where contact details are recorded and their interactions with a business are tracked. This system from the very beginning has been an important aspect for increasing sales and maintaining customer relationships. Benefits of the CRM allows you to manage all your contact details and their interactions in a timely manner. By combining the tracking of contacts, their interactions with the business, and their preferences and service issues, it became possible to create a single, unified view of the customer – vital data not only for a successful sales team, but also for the delivery of excellent customer service.
2. Sales Team and Customer Opportunity Management :
A January 2010 study by the Aberdeen Group revealed that many of the fastest-growing companies use CRM technology to turn more sales leads into revenue. The study showed that 63% of companies with the highest annual growth in terms of revenue from sales leads used lead management technology, such as CRM.

The features of CRM software gives the sales department a specified overview of the sales that have occurred at a particular period of time. Such analytical report gives enables you to plan marketing campaigns and prepare you for an increase or rise in the sales volume. The data which is extracted from a CRM helps you to manage sales territories wisely. CRM helps you to get view the schedules of your field agents by which you can allow the right sales member at areas which have high potential. This to a great extent optimizes your team's performance.

This feature of CRM also helps you to maintain customer relationships which increase chances of customer retention and also opens windows for many other potential customers. The benefits of CRM is that it allows you to track down all the customer interactions occurring up to date and analyzing the scope of your sales volume in the coming time.

Companies are investing constantly in marketing strategies to generate new leads and attract potential customers. A CRM system helps you to know about the return on your lead investments and marketing campaigns on an ongoing basis. Having this feature allows you to see where your investment is producing the greatest of returns so that it focuses you more towards the growing source. CRM makes data on each lead accessible which is a valuable asset to your sales team.
3. Lead Management:
I have seen only those organizations winning who have dug deeper to know about their prospects and leads. Organizations which have invested a lot of time applying several marketing strategies in different sectors of the market and have closely analyzed which strategy worked where and in what way were the leads generated in every sector. Often, when a business scales up, it becomes chaotic to manage the new leads coming in and the leads that already exist.

Why do need lead management in your organization?
First to clear off the clutter about what a lead is – a lead is a person in your target demographic and market, who wants to learn more about the solution you offer. Every organization aims at converting that lead into a customer that is more likely to do repeat purchases. The process that involves managing your leads helps businesses understand what are the strategies and tactics that work the best in order to generate more leads. In this manner, you can optimize your sales strategies to be both effective and efficient.
A CRM software systemizes the way you manage your leads in the following ways:
a. Lead Capturing: If you're determined every prospect if dealt with properly has a 100% chance to convert into a lead. Having a CRM simplifies your ability to engage with those leads and introducing them with the solution you're providing, ensuring lead opportunities are not missed.
b. Lead Enrichment and Tracking: A CRM software allows you to understand the behavioural pattern of a lead, for example, their browsing pattern, links clicked, resources downloaded, email engagement and more.
c. Lead Qualification: Every lead that engages with the product that you've created or the service that you're providing will have a level up to which their engagement ranks. Features of CRM helps you to prioritize your marketing efforts in the direction that makes those leads sales-ready.
d. Lead Distribution: Responsibility of every lead or every segment of leads needs to be assigned to a specific person who is in charge of that niche, a CRM software solves the problem by allocating lead management responsibility to the right person of a particular department. This automated system impacts the business at a greater scale.
4. Analytics to Track Sales:
Features of CRM have made it easy for large scale enterprises and small and medium-sized businesses (SMBs) to function optimally in every department within their organization. Every business that has incorporated a CRM system have a competitive edge above those who don't.
Having a CRM software gives you a chance to analyze your business throughout, every CRM software has 'analytics' where you can do the same. Analyzing your business is the key factor and the core decider of your company's progress. Because, when you analyze various aspects of your business, for example, sales growth, lead investments, successfully executed marketing campaigns, etc you will have a better idea of where you currently stand in the market and what are the next steps that need to be taken to grow your business.
A CRM analytics tool can help boost and track sales which can ultimately lead you to take better business decisions because it is automated and doesn't involve hours of putting your personal efforts to arrive at a correct and progressive decision. It is a big advantage for your sales team and for them to function optimally. So, how does CRM analytics tool help to track sales?
Study Customer Behaviour: You gather customer data from internal and external sources, such as sales reports, customer feedback, social media comments, and more. The platform then analyzes customer buying patterns and predicts customer behaviour to help businesses gain strategic knowledge and insights related to their product, marketing, and sales processes.
Measure Engagement and Retention: A CRM software enables you to keep a track of a customer journey mapping the customer journey helps in jotting down focal points of customer's experience: from initial contact (awareness), through the process of engagement (urging the customer to purchase) and into a long-term relationship (post-purchase involvement). CRM tools help in providing an insight into the touch points of consumer interaction and post-purchase engagement, in collation with data of the journey map. This will help you assess the strengths and weaknesses of your marketing strategy and also provide guidelines to re-engage the customer if the rate of engagement has been less.
Measure the Impact of Marketing Campaigns: Every time a company is generating greater leads there is a need to run a marketing campaign which can make those leads sales-ready. A CRM tool here acts as a backbone to analyze all your marketing campaigns held at a particular time and give you a detailed report on the marketing investments, new leads generated and then the number of leads that got converted to a new customer. So, you can study the progress or downfall of every marketing campaign held and take an informed decision every time.
5. Mobile CRM: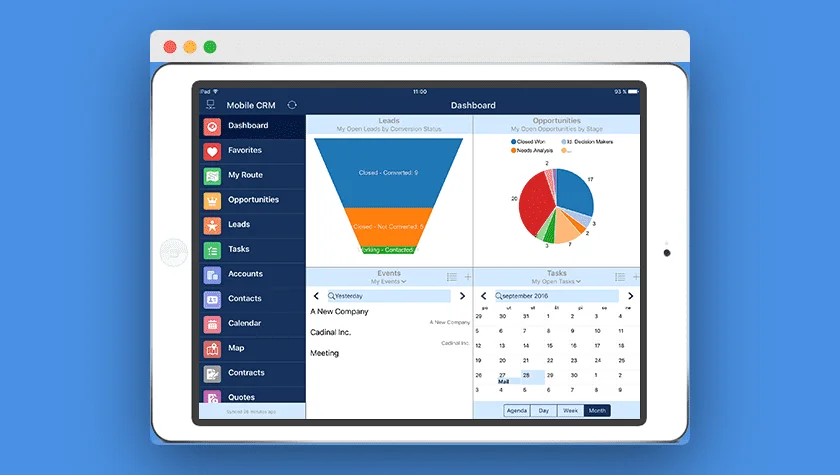 We live in a world where smartphones are the most readily available products in the market. Every person is it from any financial background owns a smartphone and is experiencing the various positive benefits that come along with it. Businesses, on the other hand, have smartly incorporated the use of smartphones. Salespeople who are operating on the field can now have complete access to every single customer data and their history in their smartphones making it easier for them and making them more aware of how to act so that flow of customers doesn't stop.
Mobile CRM, or Mobile Customer Relationship Management, is a CRM tool designed for mobile devices including smartphones and tablets. By connecting through mobile CRM, you allow your sales team's access to customer data through a mobile CRM app or through a web-based browser with cloud CRM. A key benefit of using mobile CRM is to allow your sales force to access real-time data while out in the fields meeting prospects and customers.
6. Sales Force Automation:
Automation is critical for enterprise-wide organizations which deal with thousands of customers on daily basis, because just relying on the capabilities of a human resource often leads to mismanagement and that in turn leads to drop in sales and loss of many existing customers.

Automation is essential in CRM considering the requirement of handling a huge size of customer base and the level of complexity in each sales force related or marketing related tasks. CRM needs to be accessed by various people in the business. It is most frequently accessed and used by salespersons and managers of the sales activities at various ranks of seniority. Features of a CRM software helps a business to collect, store, modify, analyze and transport the sales related data which in turn is the strategy used to drive efficiency in your sales processes. You may connect to our CRM experts to know more about CRM.
The major functionalities of Sales Force Automation are:
Account management
Contact management
Contract management
Document management
Event management
Incentives management
Sales prediction
Lead management
Opportunities management
Orders management
Pipeline management
Orders management
Product encyclopedia
Product Visualisation
Quotation management
7. Email Integration:
Emails or electronic mails have been the oldest form of internet medium to have conversations between people and also a great advantage for early businesses to sell and market their products. And yet, emails are the most underrated form of medium to market and sell, with the way advancements, have arisen in the past five years.
CRM email integration allows you to track your conversations by attaching copies of your sent and received emails, straight to designated contacts' or leads' card. Some of the major benefits of email integration in CRM are:
Your scheduling and communication records are centralized and easily accessible.
You won't need to double-enter records anymore.
You can schedule, automate and analyze emails.
You can create support cases directly from your email.
8. Sales Forecasting:
The purpose of Sales Forecasting is to estimate the sales in the future as input to Resource Planning and Financial Planning processes.
Sales Forecasting and Analytics are the features of a CRM which allows forecasting and analyzing sales data for organizations of all sizes to create more accurate forecasts, expedite revenue growth, and encourage collaboration among management teams. In today's ultra-competitive environment most of the organizations rely on CRM applications to manage customer and sales data.
The thumb rule of sales is that the more in-depth information you have about your past and ongoing sales, the more you can prepare for the future. The exact science of sales and anything in the world and how humans have attained growth is that they've predicted the future by analyzing their past. An appropriate CRM software and its benefits are what will take care of all your sales forecasting and sales report to plan for your growth.
9. Workflow and Approvals:
Workflow is a crucial aspect of Customer Relationship Management. In most CRM systems, the term workflow designates a sequence or progression of steps that are necessary in order to complete a sale or other business processes.
Workflow is necessary because a sale is a lot more than just pitching someone your idea and persuading them to buy it. There is a certain process which if followed, would produce the most successful outcome. This feature of CRM allows you to automate the process of the sale in order to get you the most desired result.
Approvals, on the other hand, are a single step that is induced within the workflow. You could create an approval step that allows salespeople to approve new revenue opportunities under a decided amount. If an employee tried to enter a new revenue opportunity above this amount, he or she would be unable to proceed without supervisor approval.
Workflow and Approvals are one of those features of CRM that have acted as a boon to sales teams within every organization by making the process of sales hassle-free, systemized, effective and less time-consuming. It is a one-stop way to optimize the efficiency of your sales team to ensure growth.
10. Sales Data: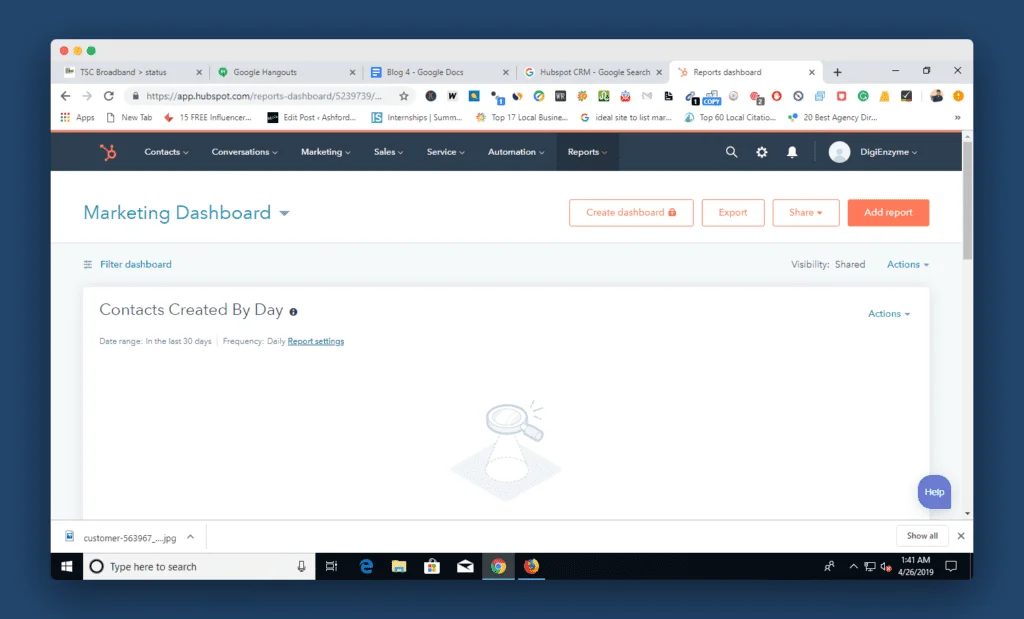 A CRM isn't just a database of your customers, leads, and prospects. It is a blend of a complete history that you've shared with a particular customer. From their name to their contact details, to their purchases and various other forms of interactions and engagement. Having a CRM software is the way of automating, digitalizing and making data readily available to all the teams monitoring a particular discipline within your organization. The kind of role the features of CRM is providing is solving internal problems within an organization which is beyond your imagination.

For salespeople, a CRM software maintains a complete database of every customer the company is dealing with. It shows the sales growth and sales analytics, it shows which customers are ranking higher and producing repeat purchases. Customers who have shown long inactivity in terms of purchasing. Leads who have started buying products from you and many such aspects which in general, allows the sales team to strategize accordingly and produce growth.

Ten Reasons every salesperson needs sales data feature of a CRM software:

1. Enjoy a Safe Storage Space: CRM helps salespeople to safely and centrally store their contacts, sales opportunities, activities and scheduled plans in one place, and have uninterrupted access to the database from multiple locations.
2. Plan and Manage Time Effectively: CRM helps salespeople to optimize their daily schedules and prioritize tasks to make sure customers are not ignored and the key prospects are contacted on time. In fact, CRM allows salespeople to spend more time with customers, which leads to more deals closed and a stronger customer base.
3. Activity Reports: CRM helps salespeople to easily prepare their weekly or monthly reports for management. The process is automated and transparent and takes just a few clicks to inform others about what sales are currently in progress.
4. Target More, Surf Less: CRM helps salespeople to segment data and offers criteria based selections. This prevents you from hours of cutting and pasting opportunities on various documents or surfing in the disorganized lists of data.
5. Stay Updated: CRM offers shared calendars, document templates, and email integration, uniting all team members and keeping everyone up-to-date. Sharing selling patterns and processes allows salespeople to see what works best. CRM also increases communication between the sales force and sales management.
6. Timely Interaction With Customers: By tracking all communication with the customers, CRM helps salespeople to know exactly when customers need to be contacted; for example, for product replacement, contract renewal, or for an upsell to a new product or service. This all increases your chances of closing a sale.
7. Rationalize Your Sales Execution: CRM helps streamline the entire sales cycle, which results in closing deals in your sales pipeline and helping everyone in the team to reach targets faster. Since order processing and preparing quotes are automated in CRM, sales teams are able to reduce production costs and increase sales revenue.
8. Know What Your Customers Really Want: Since all the customer-related data is stored in CRM, it helps salespeople to analyze the needs of customers and even anticipate their problems – all at the right time. All this increases customer satisfaction and ensures loyalty, as well as higher profit margins.
9. Cut Down On Unnecessary Tasks: CRM releases the sales teams from the majority of admin tasks by reducing and even removing some of the repetitive actions that take a lot of time, but yield little profitability. CRM stores product and price details, riggers reminders for activities, and takes salespeople through the sales pipeline step by step.
10. Save Money: Even though CRM systems are not cheap, they actually help you save your money. With salespeople, it is the reduction of errors (for example, in orders or quotes) that CRM can help with. Effort and cost related to correcting those errors may be much higher. Finally, it also boils down to such trivial things as saving money on those cluttering and often vanishing Post-it notes, since every new information can be safely stored in the system.
11. Data Storage:
With the growth of the customer base in an organization, there is a requirement of a large centralized storage platform which is accessible to everyone, anytime they need it. A CRM software does exactly the same for you by automating the process of data storage, without you having to put in any additional efforts into it. It saves a lot of time and helps sales and marketing people to take better business decisions without having to worry about the accuracy of the data stored in your CRM software
A CRM software also has features which enable it to incorporate machine learning algorithms, this helps salespeople to make forecasts and predict customer trends and needs based on past sales information. This is a crucial feature that promotes.
12. Files Synchronisation and Sharing:
This feature of a CRM is a key-feature for your marketing team, as marketing involves creating a lot of content by multiple people. If you're a marketer, you can easily synchronize the data of the content that you're creating which is simultaneously accessible to other members who can edit and make necessary changes if required.
This feature actually maintains all your files and data on a cloud network, which acts as a mutual ground amidst everyone. Security, on the other hand, is often questioned which is, in turn, better in a CRM software because it is believed that files and date are much safer on the cloud than it can be anywhere. This features also enable to eliminate the risk of losing your data forever, as there is a data retrieving option where you can retrieve your lost data.
13. Inside Sales Console:
Imagine having a system that ensures sales reps to follow up on leads, assess various companies, identify key contacts and access sales intelligence? I know, it is a system that would enable maximum productivity in your sales team. Your sales team needs better information on the various peripherals of the business to bring in the most favourable outcome. The 'Inside Sales Console' feature does exactly the same for your sales team.
The major role of the Inside Sales Console feature.
Customize For Sales Experience: Designed for flexibility, administrators can easily configure a console specific to each sales process. The result: increased productivity and improved the user experience.
Follow Up On Leads Faster: Inside sales reps can easily manage their inbound lead queue and tasks on one screen, providing easy access to key lead details and sales intelligence, and helping them qualify and move more deals to the next stage.
Uncover New Leads Without Leaving The Screen: Inside sales reps can easily manage their inbound lead queue and tasks on one screen, providing easy access to key lead details and sales intelligence, and helping them qualify and move more deals to the next stage.
See Multiple Tabs In One View: Easy-to-navigate tabs at the top of the page give reps a fast way to see leads, opportunities, prospects, accounts, campaigns, and more. Now salespeople can access and review anything they want in the sales process without jumping from screen to screen, eliminating the need to dig for data.
14. Sales Performance Management:
When it comes to organizational growth, just activity is not enough, we need productivity. Activity is directionless efforts whereas productivity is efforts applied over a profitable direction, which brings us to the aspect of sales performance management.
Wasting time on leads that aren't going to convert into customers is the best way to be unproductive and inefficient. Therefore, CRM software and the integrations that go with it is evolving to become smarter and more intuitive, making lead gathering and lead sourcing more focused, and more rewarding.
I'm listing down top six sales performance management traits that come along with a CRM system:
Close Rate: Also known as the "win rate," close rate refers to the percentage of opportunities that are won by sales. In other words, the percentage of prospects that sales have accepted and opened an opportunity for that are converted into customers.
Win Versus Loss Rate: You can measure the win and loss rate easily if you use sales management software with powerful metrics and reporting capabilities. Win Versus Loss rate is simply the percentage of opportunities won versus those lost.
Sales Funnel Analysis: Analyzing the state of your sales funnel provides deep insights into how well your sales team is performing. Doing so allows you to identify bottlenecks that are preventing leads from moving from one stage to the next. With that insight, you can dig into the issue and understand why those bottlenecks exist. Perhaps you are not delivering the right content at the right time. That's why it's important to map your content to the various stages in the buyer's journey.
The Sales Pipeline: Analyzing the sales pipeline is different than analyzing the sales funnel. While funnel analysis looks at all leads and where they are in the buyer's journey, pipeline analysis measures the number of open opportunities and the rate at which you are closing them.
15. Marketing Automation:
Marketing and Sales in every organization is a factor that goes hand in hand. Marketing is basically bringing in your product and its benefits in front of the customer's vision. Marketing requires daily input and it is not a one time deal, daily optimization and changes need to be made in order to draw out the most favourable output.
The level of marketing that you do will determine the growth in your sales. An enterprise-wide company without an automated system for all marketing needs is a company that will face issues in existing in the market and facing the competition.
Email Marketing: Email is the most classic and effective way to have either a brief interaction with the customer or promote new offers. A CRM software helps you to create great email content and make it visually appealing.
CRM integration: The marketing automation feature allows both sales and marketing teams to work in coordination with the seamless exchange of lead data.
Lead Nurturing: This is a feature that enables you to send the most right information to the right lead at the right time. Nurturing leads the best tool used by marketers to study various attributes.
Campaign Management: For a particular sales cycle, campaigns are basically workflows that are used by the marketers to nurture their leads. To run successful campaigns you need to send direct and personalized emails to a large number of people.
Lead Management and Scoring: Leads are often ranked as per the level of interest a lead shows in the solution that you're providing, with time as a segment of highly ranked or scored leads mature and become sales ready, they are sent to the sales team for the right action to be taken.
Landing Page: Also known as a Call to Action page, a landing page is any page on a website where traffic is sent specifically to prompt a certain action. Landing pages help increase conversion rates through targeted promotion. You can market multiple products to audiences using highly customized landing pages with specifically targeted content.
Visitor Tracking: With the help of a CRM software and marketing automation, you can track the number of visitors you have on your website, the specific keywords they use, which pages they click and from where do they access the website.
16. Integration of chat:
Organizations that are larger in size with continuous running customers, it gets harder to keep in mind every little detail of information they share. In order to ensure maximum growth, we must take care of their needs and have a track of every information they've shared with us. Integrating your chats with customers with a CRM software enables you to store all the data from every customer you've been chatting with.
It is a smart and useful way to save time and optimize organization's performance because a CRM software automates the process of integrating your chats and storing valuable information which later comes in great use of nurturing your leads and customers.
17. Call Management:
A CRM software provides the call centre agents to make scheduled calls to the customers at the right time as per the demand of the situation. This feature adds greatly to the total customer experience. CRM call centre software is necessary whenever you want an accurate, complete and clear picture of all your customers.
A centre CRM software tends to be vital for all the employees and managers that work on call centres. On the other hand, they will be able to have the chance of forming and storing every necessary information and history of every customer for the purpose of having a precise and fast result.
18. Web Analytics:
The major purpose of having Web analytics is to track the visitors on the page, to analyze the customers and leads. A customer-focused web analytics solution will enable you to identify the largest portion of your online traffic possible, gather the most relevant online data to build a rich customer behavioural profile, ensure accuracy with the confidence you need to power personalized marketing and give customers control over how their data is used.
To understand the behavioral pattern of leads and customers, is to know them and have complete information about them and having complete information means your sales team can execute their sales strategy to the right customer at the right time, which enhances the overall customer experience. Web Analytics also plays a crucial role in customer behavioural retention, as in today's generation more than the value or service of your products more customers do repeat purchases, only if their experience with your organization is up to the mark.
19. Automated Support System:
CRM software is the one solution that automates all your business tasks, thus acting as a support system. A CRM software collects and maintains all your customer data on a mutual platform where it is accessible to people across every department within your organization. If you've managed to get your customer intrigued about your product, they'll reach out to you and would want to know about your product or service. You must have a piece of complete information about every customer because if you ask them the same questions again and again to them, it causes resentment in them. CRM software just automates the process of collecting data, which is usually tough if done manually.
CRM software is a customizable sales CRM solution that can be modified as per your business requirements. It can effortlessly play the role of a support system and help in offering utmost customer satisfaction to your clients. CRM software has the required features that you would expect from a support system. It is the best way to organize your flow of support and address your customer's queries and concerns in real-time.
20. Cloud-Based CRM:
To define what a cloud-based CRM is, it is a system where all your customer data, the CRM software, and the CRM tools reside and is delivered to end-users via the Internet. Cloud CRM typically offers access to the application via Web-based tools (or Web browser) logins where the CRM system administrator has previously defined access levels across the organization.
Merits of having a cloud-based CRM:
It is a great system for scalability, as your organizations grow and you have more members in your team it is much easier to store your data on the Internet, which acts as a mutual platform to retrieve and share data amidst each other.
It is very cost effective, as you don't have to worry about your data management or worry about spending money on the licenses of the individual device.
It is easier for the small scale businesses to utilize a cloud-based CRM until the time they don't have IT expertise within their organization.
It is hassle free and you don't have to worry about losing your data ever because everything change you make goes through an automated process and is secured in the cloud.
21. Quotation Management:
CRM software is the key to unlock your quotation management challenges. Quotes and sales proposals are legally binding agreements between a vendor and client to deliver the client requested products in a specific time frame at a predefined price. Your clients can place orders within the validity period that has been specified in the quote otherwise you may cancel the quote or send a new quote extending the time frame.
Having a CRM management has enabled the ease of managing all your quotes, as it automates the long process of quote generation and enables you to create and send inclusive quotes just within a few clicks.
Functions of the Quote Management feature:
Creation Of Sales Transactions And Post Processing: You can use the Interaction Center, the Web Channel, or the CRM WebClient UI for creating sales transactions. You can also have all of these processed in the CRM WebClient UI as well. Even those transactions that have errors in them can be tracked down and saved for processing further.
Trigger For Further Processing: Whenever a sales order containing errors is saved, the same gets referred to SAP ERP. All the logistic processes are carried out thereafter.
Getting Used To Your Business Processes: When you have the transaction processes customized then it will offer you numerous settings to have the sales transaction adapted according to the business processes of your company.
Sales-Specific Functions: A number of different functions can be used in sales transactions. Some of these include product determination, the credit check, and the availability check. Besides this, you'll have access to the special functions when you are dealing with sales orders and quotations.
22. Role-Based Views:
As CRM provides a platform to maintain data which is accessible to everyone to view, the higher authorities of your organization can set restraint for some crucial data that would need the permission of the higher authority for others to access it.
This feature unboxes the solution to the viewing security of your data and allows only those people to access that data who're going to need to view it, from time to time.
23. Third Party Integration:
Many times, in order to enhance customer relationships and experience we can use various external tools and applications which can work in accordance with the existing CRM software. This feature is a great merit for all your marketing campaigns and sales strategies, as many of the tools or applications that you integrate with the CRM gives you an in-depth information of the customer history and allows you to act accordingly so that there are greater positive engagement and sales growth.
Various attributes of these features are:
Credit Card Processing: You can securely process credit cards in real time by this feature.
CRM Systems: If you have a third party CRM system managing your customers, it can be integrated into your website allowing customers to log in and do anything from updating their information to placing orders. This allows your organization to keep a single location for all your data while adding a second interface to utilize the data.
Maps: You can integrate application like Google Maps, in order for people to track your location and maybe engage physically.
Statistics: Track the success of your site by learning not only how popular your site is or specific sections are but how people navigate and get to each section.
24. Campaign Management:
A CRM software acts as a friendly neighbourhood when you're in desperate need of managing your marketing campaigns. CRM software automates the whole campaigning processes in a repetitive pattern. This is because a customer walks off much more satisfied when you're completely informed about them and you're providing them with the right solution at the right time.
In fact, in using this tool, you can use different channels for implementing various outbound and inbound campaigns. Furthermore, they all can be combined by using different optimization techniques to define and implement marketing strategies for determining a suitable marketing mix.
25. Case Management :
In this digital age of existence and business operations, there are is an increasing number of customers who'd prefer their issues to be resolved on phone or meeting personally, and customers are looking for companies who would meet them at any avenue, even online. In fact, an estimated 67 % of consumers now use social media networks like Twitter and Facebook to seek resolution for issues.; In the early days of social media, this was a tough challenge for many brands. This was the first time that companies were being called out — both positively and negatively — on public platforms for all to see. And in addition to general comments and reviews, more and more customers were reaching out on these public networks to get answers to questions and resolution for issues.
A CRM software has the feature of case management where the software automates the process of conflict resolution over various digital platforms. A CRM software enables automatic collection and organization of customer interactions into one place.
Having a cloud-based CRM makes the task much lighter by allowing for instant, out-of-the-box use. This means that agents can log into their accounts, and immediately view their cases at a glance, sorted by priority, and manage everything from one place. They can also categorize cases and send them to the best department or person to resolve them. This makes the agent's job easier and ensures that each customer gets a quicker resolution to their issue.
26. Social Media Integration :
As the title says itself, social media integration is the convergence of social media channels into your CRM software. Social CRM makes it possible for a business to communicate with customers using the channel of their choice—whether by phone, text, chat, email or social media (e.g. Facebook or Twitter). Off the back of these interactions, a social CRM system helps businesses gather richer, actionable insight about customer sentiment on their company, their brand, and specific products or services.
With social media integration when a customer chooses to contact a business via a social channel, that interaction can be tracked and managed in much more detail. The key benefits of having a social media integration in your CRM software are:
Deliver customer support in the online platforms customers use.
Interact and engage with customers in real time.
Resolve issues speedily by monitoring social media for complaints.
Find and reward brand advocates and customers who help others.
Get greater exposure in the places where audiences spend their time.
Increase engagement and deepen relationships with customers.
27. Pipeline View:
For your sales team, a pipeline view plays a very important role for the sales member to track the movement of sales, the past implementations and measure the conversion to win ratio. Tracking these basic aspects within your business allows you to understand what works for the best and what doesn't.
In the Pipeline View, you have a graphical representation of your sales process, with its distinct sales stages. Within each sales stage, you can instantly see exactly where each opportunity lies, along with how long it's been there, if it's overdue, its chances of coming in, and numerous other factors.
Aspects you can track through Pipeline View:
Open vs. Lost: showing you the total value of the deals in that stage, as well as the value of deals that have been lost in that stage.
Drop-Off Rate: Shows you the average percentage of deals that drop off in this stage.
Average Days in Step: Shows you how long a deal is remaining in that sales step.
Ready to Move: Shows you the number of deals that are ready to move to the next sales step.
You also have the number of velocity issues and can click through and see those.
BOOK YOUR FREE CONSULTATION SERVICE
Some of the best CRM Softwares:
4.Zoho
6.Vtiger
7. amoCRM
8. Bitrix24
9. Salesmate
10. Infoflo
To top it all:
No matter how technologically acclaimed the world turns into, there will always be people and if you have your own organization you'd always need them to buy your products. You can have the best revenue model and you can have the best sales consultant coaching your sales and marketing team, but it all needs to be lit up with a purpose to serve the customer and true service is brought in when you care for your customer. Thus connect with the CRM experts to and build a personalized relationship with the customer.
As far as we've seen and gone through every feature of a CRM system, it is bound to be a determining factor when you compete in the market, your success will always be determined by the kind of relationship you've maintained with your customer and with CRM, all of your customer management needs is brought to a halt. Automating the process of managing your customer not only saves much of your crucial time, but also optimizes the productivity of the people within your organization and ultimately that is what would get your business to a tipping point.