You hear about Kajabi and Goove.cm a lot, but which is better? Both platforms cost, so it's time to do some analysis in terms of features to see which platform you're better off using!
Kajabi is a comprehensive course creation and marketing platform. You can also use it to create and market membership websites and coaching products. Of course, its abilities don't end there.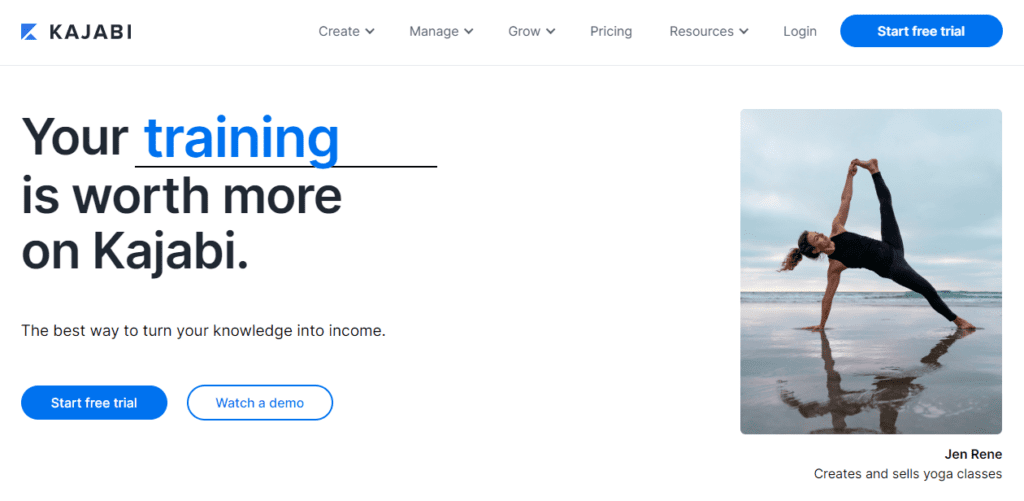 Its users have given it great reviews. The platform has an overall review of 9.8 out of 10 possible stars on Supply Gem. In fact, it's rated as one of the best platforms there.
You'll have access to amazing features and tools that are necessary to market your courses. The customer support is also incomparable.
An Overview of Kajabi's Features
It's a bit pricier than the competition. Kajabi also only offers paid plans. You'll get many more features and much more functionality than you would with another platform, so you'll get your money's worth. Kajabi's paid plans also have a high ROI.
Users love Kajabi's intuitive drag and drop interface. They say it's so easy to use that a toddler would have no issues with it. It's possible to create stellar web pages, sites, and marketing emails that deliver quick and easy results in just a few minutes by clicking a few buttons.
The sales and marketing features are also excellent. They'll make your online courses 'sell like hotcakes' immediately. The features' strengths lie in the marketing email and pipeline builders. These are also great for creating landing pages that convert.
You may be able to create powerful courses that generate conversions immediately, but there's a catch. That is it's student engagement tools are definitely not the best in the industry.
Kajabi scores well in the area of template design. These are brilliantly designed and customizable. The sales and landing page editors will give you lots of options. You can use code editor either with the Pro plan or with your current plan (if you use Kajabi Access.)
Its customer support is the best in the industry. Their reps have thorough understanding of all topics, they are like your professional friends, and they answer all of your questions quickly and thoroughly. Of course, you can always refer to Kajabi University if you are ever stumped. Its free classes and tutorials will give you lots of guidance.
Kajabi has a 14 day free trial. You have to sign up for a paid plan after that if you want to continue to use it.
Why You Want Kajabi
Its intuitive drag and drop editor is a big plus. You can create a great website that converts in just a few minutes with the click of a few buttons. Be on the lookout for Kajabi Community which will come this year, following the acquisition of Vibely. The community will be an extra layer of support for this already great platform.
The course creator is intuitive and easy to use. You can use its marketing tools to create impressive automated email marketing campaigns that convert easily.
Kajabi's visual pipeline and sales funnel editor are also invaluable. They're designed to allow you to set your pipelines to generate as much traffic and as many conversions as possible. The templates are fully customizable and are in an extensive library. You decide where you want to put individual elements. You can also decide which elements you want to include.
Kajabi offers choices in affiliate marketing. You can create affiliate links that users can share to become affiliates. They can also promote the platform in exchange for a commission.
There is no need to hook a payment gateway up to Kajabi. You can integrate Stripe and PayPal quickly and easily accept payments. You can also customize membership options. For example, you can create a private content area with different pricing options for different members.
You can integrate Kajabi with dozens of different platforms. For example, you can integrate up to 10 native platforms, including Zapier. You can also integrate thousands of non native apps once you've integrated Kajabi with Zapier.
Kajabi has the Hero Rewards program which is extensive and impressive. You'll gladly sell more since you'll have lots of incentives to do so. You'll earn physical prizes once you've reached certain milestones. Kajabi also offers lots of educational resources. It's because Kajabi University offers lots of tips and guides that will prove to be invaluable when learning to use Kajabi.
There are no surprises in the pricing. You'll never get upsells and Kajabi is upfront in the beginning regarding the different plans and their features. The sky is the limit with webinar and podcast features. You can sell more by upselling podcasts, webinars, one-on-one consultations, and more, to your customers.
Why Kajabi May Not be so Great
Kajabi is expensive, so it may not be ideal for new business owners with limited budgets. Kajabi plans cost more because they have many amazing features and tools. Kajabi features are impressive and deliver amazing results, so you'll make up what you pay for in a higher price with more and higher priced sales.
There are no real student engagement tools. That's somewhat of an issue since you don't have any real way to measure how well students understand the material being taught. You can't create any certificates either, and that can be an issue since you can't reward those students who successfully finish your courses.
There also aren't many payment gateways to integrate Kajabi with.
Kajabi customers heap nothing but praise on the platform. They say that has all of the features needed to market and run a business. They also say that it's fairly easy to use and perfect in helping SMEs scale up their businesses.
Let's start with the website builder. It's perhaps one of Kajabi's best features. As mentioned earlier, the website builder operates on a drag and drop basis. You can also edit elements with just a click of a few buttons. The builder also allows you to build highly customizable websites.
As mentioned earlier, these are extensive. However, what I didn't mention was that these templates are built around impressive and unique themes. You can use these beautiful themes to build websites with a one-of-a-kind layout that will wow people and drive exponentially more traffic to your site.
You can also design different pages, depending on what you sell, to have different themes. Now, that will make your site stand out from the competition.
That's quick and easy. But you'll have full flexibility when writing blogs. For example, you can edit posts in just a few minutes and you can schedule their publish dates in advance. You can also tag blogs, categorize them, and do other things to make sure they optimize your web traffic and conversions in no time.
You'll have at least one custom domain when you sign up for a plan. That will make it easier for you to brand your site and sell much more. You'll also be able to drive much more traffic to the store.
Kajabi Lets You Host to Your Heart's Content
You can do amazing web and video hosting with all of the plans. You'll have infinite storage and bandwidth with each plan. That allows you to build your site and grow online store the way you want without having to worry about ever running out of storage space.
Its auto scaling feature will allow your website to perform at its best at all times. That's what you want since that's what drives thousands of people to your site every day. That's also what will drive dozens of daily conversions.
Kajabi's Membership Options
You can design membership sites with exclusive content for certain members. You're not limited in the number of membership sites that you can build either. Also, each membership site can have a different offer. You can get more people to buy from you if you design and set up membership sites right.
It's possible to customize payment options according to membership options and page layout once you've set up a membership site.
Kajabi Security and Customer Support
Rest assured that all of your information and all of your customers' information is safe and secure. Kajabi's state-of-the-art security systems allow for that and more! You can always access customer support at any time of the day or night through its live chat support.
You can also import SSL certificates to show that your site is legitimately secure. You'll only get 24/7 customer support with the growth and higher plans. The Basic plan will give you customer support during normal business hours.
SEO is important if you want to be successful in generating more traffic to your site and if you want more conversions in general. Kajabi will let you excel at quality SEO. You'll have lots of cutting edge SEO tools at your disposal through Kajabi's many plans.
You can also do SEO in different countries since Kajabi offers multilingual SEO! All of that and more will ensure that your site races up the rankings in no time. That means your chances of reaching out to those in your target markets will improve dramatically.
Kajabi Lets You Publish With the Click of a Button
All you have to do to set up a page or site up is click a button. Kajabi will automatically take care of all of your publishing needs for you. You can also easily and quickly update your sites. Just take a few minutes to set everything up on your site and voila, you're good to go with the click of a button.
Kajabi and Email Marketing
Kajabi shines in email marketing. So, you can use its many email marketing tools to do many things in terms of email marketing campaigns. These include setting up automated email broadcasts, setting up automated email sequences for pipelines and pages, managing your emails, and managing the list of contacts in your dashboard.
As you can see, the many features of Kajabi's email marketing alone allows you to different your company and brands based on email marketing. But Kajabi's email marketing feature goes one step further by allowing you to segment your customer and prospect lists by certain features. These include buying patterns and demographics.
Once you've done that, you can generate even more sales by sending out targeted or customized/personalized marketing emails to everyone in those different segments. It's also one way for you to set your business apart from your competitors'!
The good news is that you can send out as many emails as you want whenever and wherever you want with all Kajabi plans. You're free to include whatever content you want in these marketing emails. You're also free to format them the way you want!
Kajabi's Marketing Pipelines
You'll have no issues selling online courses with Kajabi's many marketing pipelines. You can sell more and you can sell to specific audiences by personalizing your pipelines. Yes, Kajabi's pipeline schematics will let you do that and more!
You'll get a visual diagram of your pipeline schematic. It will be easy for you to use the drag and drip editor from there to customize the pipelines the way you want. For example, you can use graphics, GIF's and videos to communicate special messages and propositions that your competitors may not be able to. You'll create a sustainable competitive advantage by doing so.
You're never alone if you're new to sales and are completely clueless as to what a pipeline is. Kajabi has you covered with automatic suggestions as to how to best set up pipelines for your company and industry.
You'll have no issues with marketing since Kajabi will give you email marketing templates and copy that will sell your brands. Kajabi will provide you with analytics that will let you track your email marketing campaigns' progress and allow you to understand your revenue streams and ROI.
The pipelines have some amazing features which will give your email marketing campaigns powerful abilities. You can turn your marketing campaigns into a lead generation magnet with the pipeline schematics. Some of these tools allow you to create email sequences for customers. You can also gather more quality leads with opt-in forms. Finally you can use opt-in and submission forms as lead generation tools.
The basic plan will allow you to set up to three pipelines. That number jumps to 15 with the Growth plan and 100 with the Premier plan.
What's So Special About Kajabi Landing Pages?
You can create an unlimited number of landing pages with any Kajabi plan. Landing pages are important since they tend to help you generate more quality leads and conversions faster. So, they're strategic in terms of improving your ROI and making your marketing efffots extremely effective.
You're in luck if you've never designed landing pages before, as most people who are using Kajabi probably haven't, since Kajabi offers an extensive library of landing pages templates which are completely customizable.
Kajabi's Affiliate Program
You can sell to people living far beyond your borders with Kajabi's integrated affiliate program. In fact, using Kajabi's affiliate program is a great way to multiply your revenue streams quickly. All you do is create special links and share them to your affiliates to use with the people they market to.
You will get a sale whenever someone clicks on the link, and the affiliate will get a commission. You can make your email marketing campaigns even more powerful and more effective at multiplying your revenue streams and profit margins with Kajabi's affiliate program.
Give your digital marketing campaigns even more punch with evergreen live webinars. Webinars come in many forms. For example, prerecorded or live streaming videos are webinars. You'll find that, when done correctly, evergreen webinars are great at bringing in lots of passive income and converting prospects.
Kajabi Integrated Payments
You can take payments in multiple currencies thanks to Kajabi's integration with Stripe and PayPal payment gateways. Of course, you're always free to use the payment gateway you want if you don't like or can't use either Stripe or PayPal.
Create Different Pricing Tiers and Options
You're free to customize pricing options. You're also free to choose the payment frequency that's best for you. Keep in mind that Kajabi takes care of tax considerations and calculations for you, so you have one less headache to deal with.
If you're brand new to your industry, you'll probably find that you have to offer incentives to get those crucial first sales. Don't worry, Kajabi has you covered with coupons and promotions. You can 'push more of your brands out of the door' initially with deep discounts, and you can generate revenue streams with volume sales.
You can also use free trials as a way to attract customers. For example, if you're offering access to exclusive research materials, you can offer people a free trial of 20 days and then require payment to continue to use the services.
You'll get more customers off the bat since many people may not be able to pay for your courses in one lump sum up front. You can offer them monthly payments for a certain period of time. You'll find that you'll be signing up for more people faster for your courses if you implement those types of payment plans.
Recovering Abandoned Carts
Not only are abandoned carts frustrating, but they can also cost you revenue. After all, they're products that you can't sell which are just sitting there in someone's abandoned cart. Don't sweat it. Kajabi will let you recover those types of carts quickly and easily. Your website will document every instance of a customer abandoning a cart on your site.
It will then send the customer an automated email informing them of their actions and asking them to proceed to the checkout and payment buttons.
Kajabi's strength lies in hosting courses since that's what it was designed for. You can categorize courses after you've designed them. You can then assign different posts to them based on how they're listed on your site. You've got choices when grouping courses. For example, you can group them by price, length, skill level, and premium content. But the options don't end there!
Kajabi is unique since it allows you to create exclusive courses behind a paywall that only subscribing members can access. You can reward those people (who pay more) with content and knowledge that aren't easy to find online.
Kajabi was built for video courses since these tend to be the most effective, but there's also room for text-base courses as well. You can upload as many courses as you want for free. You can also upload any type of file format or document in existence. The good news is that you can connect Kajabi to external drives like Google Drive and Dropbox to access these files directly.
You can also schedule recurring drip content automatically. This is a great way to teach new and complex content to any student. You can also automate your courses through the publishing tool.
Kajabi Quizzes and Assessments
No one likes to hear the words, "there's a pop quiz today!" But the truth is that quizzes and assessments are a great way to measure subject comprehension and retention of knowledge. You can create the quizzes in a variety of formats including multiple choice and multiple answers.
While you don't have to grade these, keep in mind that if you decide to grade the quizzes and assessments, that must be done immediately. Then, the graded items can be returned to the students instantly.
It's possible for you to require students to score high on quizzes and assessments before moving onto the next level in your courses. You can segment students based on their performance and list them accordingly.
You can issue your students personalized and customized certificates upon completing your courses through Kajabi certificates, Note that you'll need to integrate Kajabi with other certificate platforms to create any certificates.
You can integrate Kajabi with a bunch of other platforms to give it brand new functionalities that you may need, but that Kajabi doesn't natively have. Some of these platforms are (note that this is not an exhaustive list) Aweber, Mail Chimp, Drip, ConvertKit, ActiveCampaign, Google Analytics, Shopify, SquareSpace, Facebook pixel, Clickfunnels, WordPress, and Zapier.
The third-party platforms will import data directly from Kajabi once you've integrated them. This feature will make your courses and email marketing campaigns even more powerful.
Note that you'll get a discount for each plan if you pay up front for the year instead of in monthly installments.
The Basic plan normally sells for $149 a month, but you can get it for $119 a month if you act now and pay up front for the entire year. You can create and market up to three courses. You'll get up to three funnels to sell through. You can create an infinite number of landing pages and marketing emails.
The Basic plan will also let you store up to 10,000 contacts and up to 1,000 customers. You'll get one website and one admin per account. You'll get access to some interesting goodies including Kajabi University, no transaction fees, webinars and events, premade templates, assessments, a welcome call with an onboarding specialist, a check in call with an onboarding specialist, chat support, and automations.
The Growth plan is what course creators, like you, prefer to use. It sells for $199 a month, but you can get if for as low as $159 a month if you act now and pay annually and upfront. You can create up to 15 courses. You can also create up to 15 funnels, an infinite number of landing pages, and an infinite number of marketing emails.
You can also store up to 25,000 contacts and 10,000 customers. You'll get one website and you can add up to 10 admin accounts to the account. You'll get all of the extras, but you'll get access to advanced automations instead of the regular automations that are available with the basic plan. You'll get access to the affiliate program and you can brand your website the way you want.
The Pro plan normally costs $399 a month, but you can get it for as low as $319 a month if you pay for an entire year up front. The only real difference between it and the Growth plan lies in the number of courses and sales funnels that you create, along with the number of contacts and customers that you can store.
You can create up to 100 courses Pro plan. You can create the same number of sales funnels. You can store up to 100,000 contacts and up to 20,000 customers. You'll be able to build up to 3 websites and you can add up to 25 admin to your account. You'll get all of the extras as with the Growth plan, but you'll also be able to access the code editor.
A Synopsis of Groove.cm
You want to know more about Groove.cm, particularly insights and information that isn't readily available on Google. That's why I'm giving you a brief and intense synopsis of Groove.cm.
For starters, Groove is a comprehensive platform. You can use it to build sales funnels, among other things. You can drive more traffic to your site with those funnels. They'll also drive many more conversions for you. Interestingly, Groove.cm's sales funnels also let you do CRM better and easier.
Groove.cm comes with lots of other goodies that are invaluable for you in your quest to gain and keep as many customers as possible. These include opt-in forms, landing page designs, page templates, and ticketing systems. Of course, the good stuff definitely doesn't end there!
Now that I've given you a basic overview of Groove.cm, it's time to answer the question, "who should and should not use this full sales funnel website?"
As mentioned earlier, it has all of the tools and then some if you're serious about marketing your brands and successfully selling them in your target markets. Groove.cm comes with more than 17 apps which have only one goal and that is to allow you to successfully sell more by broadening your site's and brand's reach!
You won't need to invest in other platforms that offer websites, web design, email marketing, membership websites, eCommerce, webinars, sales management, affiliate software, and more services if you have Groove.cm. It's that comprehensive and useful!
You should use Groove.cm if you fall into one or more of the following categories: local business owner, niche blogger, coach or consultant, course creator, marketing agency, eCommerce store owner, membership site owner, digital product creator, website developer, sales funnel builder, graphic designer, email marketing specialist., affiliate marketer, joint venture specialist, webinar organizer, and any type of online entrepreneur.
That said, Groove.cm is NOT for you if you fall into one or more of the following categories: you are a manager or an owner at a large company with huge databases that need to be queried regularly, or you need detailed client reports.
I thought it would be great to describe some of Groove.cm's apps now that you know more about this sales funnel platform and who should use it. Knowing about the apps is a great way to showcase its many great uses and applications.
As with almost any sales funnel platform on the market, you can use an intuitive drag and drop builder to create comprehensive and customized funnel pages that can convert. But that's not all. You can include multiple menus and you can integrate funnels into landing pages, all on a customized domain.
Groove Pages has many features that customers just dig. They are the ability to create as many websites and sales funnels (landing pages) as necessary or desired, the ability to integrate websites, landing pages, and more into an unlimited number of custom domains, and an intuitive drag and drop editor.
Groove.cm's website builder is intuitive in that it has blocks. All you do to create a web or a landing page is place content (images, text, videos, audio files, gifs, etc…) into blocks as needed or desired. You're covered if you know nothing about web design. Groove.cm's creators figured that most users fall in this boat, so they have a wide variety of pre-made landing page and sales funnel templates.
All images, regardless of their original resolution or pixel quality, are optimized into various forms of webP format when the pages are published. The result is pages with smaller and richer images. Pages are responsive and drive more traffic. They are also stickier and that helps drive conversions.
All pages are optimized and have sitemaps. Both help their rankings since Google gives more priority to optimized pages with detailed and organized sitemaps. You can also enable popup ads on Groove.cm pages. The pages will drive more traffic to your site and generate more conversions by creating megamenus.
You will get unlimited bandwidth and hosting. That will be vital since you won't spend a fortune on either one as your business scales up. You can share funnels to your heart's content and the Pro plan offers unlimited features. That will give you a real 'leg up over the competition', especially if you have just started your shop.
Of course, Groove.cm doesn't come without drawbacks. The main one is that it offers an unlimited range of style and formatting choices. Many people who are new to website design have been intimidated and overwhelmed by that.
The good news is that Groove Pages is just as good as, if not better than, similar products that competitors put out.
Groove Sell is a sales and affiliate management platform with a powerful and successful shopping cart tacked on. The sales management principles that are built into it do their trick because they help you sell more digital brands.
You want Groove Sell because it lets you create customized checkout and order forms. You can format each form at a different price point. That comes in handy when you sell a variety of products, and/or services. You'll also have a lot of leeway when charging customers.
For example, you can offer one-time payment, recurring billing, payment installments. and you can allow for a free trial period before billing clients.
You have choices when you sell your products. For example, you can upsell, offer one-time sales for certain brands, down sell, pre-sell, and post order sales bumps.
Accepting payment is easy since GrooveSell integrates with a variety of payment gateways. These include PayPal, Stripe, and GroovePay. Indeed, GrooveSell gives you a world of choices when integrating payment gateways. There are also no third-party processing fees. Many other platforms charge those types of fees, and that deters people from making purchases.
You're in luck if you're new to the industry and you want to sell your brands better initially. GooveSell lets you set up affiliate programs to help you promote your brands to a wider audience. That increases their salability rapidly.
You can sell to the world since GrooveSell accepts payments in more than 20 currencies. You can also promote your products initially and during certain seasons with coupon and discount codes. Analytics are easy since GrooveSell lets you report sales, refunds, re-bills, and any other type of transaction with no issues.
It's easy to manage your contacts with GrooveSell. Just export your customer and email lists in csv files. The good news is that GrooveSell is included in Groove.cm's free and paid plans.
You'll have to learn how to use GrooveSell by yourself. However, don't let the platform's seemingly complex nature confuse you. There's a way to simplify things if you watch various GrooveSell tutorials on YouTube. They'll explain in detail how to use this broad platform in a language that a toddler could easily understand.
To sum it up, GrooveSell is free. So, you'll be saving big money by using this service. There's another perk since you can list your products in GrooveMarketplace once you've signed up for GrooveSell. That gives you another inadvertent huge advantage since it lets you build a team of affiliates who will gladly market your brands for you to a vast global audience.
This is a cloud-based affiliate platform. Not only does it allow you to create customized affiliate programs, but it also allows you to manage them. You can also use various features to track your brands' progress. Groove Affiliate will allow you to create an unfair sustainable competitive advantage that will allow you to 'smoke' the competition.
For one thing, the 'sky is the limit' when you're creating affiliate programs. As with all types of affiliate marketing, the more you market your brands and the greater awareness you create about your brands, the greater the chance that you'll sell them.
Groove Affiliate has many tools that you can integrate into your affiliate programs. These will help you broaden your brands' marketing and promotional reach. These tools include, but are not limited to: email swipes, blog reviews, articles, and affiliate banners.
Give your brands more priority with dedicated landing pages and sales funnels. These have another important use – they help you test your pages' EPC and conversion rates. That way, you can see which pages are the most effective and successful and which need some more tweaking.
You can let affiliates take charge. For example, you can allow affiliates to market your brands more intensively by adding their own incentive bonuses and letting them capture more email leads. Each lead is a potential customer who needs to be nurtured through intensive marketing.
You can also manage your affiliate programs and make them much more effective and successful by creating affiliate leader boards whenever you're going to launch a new brand.
Groove Affiliate has many tools that let you track your programs' performance and see just how much they are contributing to your ROI. To use examples, you can monitor affiliate statistics and emails. That will also let you understand which of your affiliates is being the most productive and successful.
You can also reward more successful and harder working affiliates with higher commission rates. Groove Affiliate will always keep you in the loop with its regular and detailed transactional reports. You'll have access to in-depth sub affiliate reports, earnings reports, and payment histories that will give you a constant and up-to-date picture of how your affiliate programs are actually working.
The Good News is that Groove Affiliate comes with free and lifetime deals.
You're better off using Groove Affiliate if you want to promote your brands in otherwise inaccessible markets because your affiliates will use advanced and sophisticated features to effectively and successfully sell your brands,
An example of a Groove Affiliate feature is customized cookies. Your affiliates can track the progress and success of their marketing efforts by adding conversion cookies. Of course, you can always disable these if you need or want to.
The only drawback with the affiliate program is that you can only make manual payments.
Groove Mail is an automated email marketing platform. with an integrated auto responder. It's also a platform that offers automated marketing options. It's easy to use, just compile your email list, start your email marketing campaigns, and activate various IF and THEN triggers between various Groove apps.
Groove Mail is for you because you can send up to 500 automated marketing emails in a blast, and that's just for the free plan! You can add as many email lists as you want, and the sky is the limit in terms of the number of opt-in forms that you can add.
You can boost your marketing email's reach by adding as many tags and segmenting them the way you think is necessary. You can send out an unlimited number of marketing emails. You're also not charged extra for sending out numerous email marketing sequences.
Groove Mail lets you monitor emails after you send them out. You can block spam and bounced emails. You can also integrate Groove Mail with Twilio to send out SMS (text) messages.
There are some major drawbacks though. The first is that only lifetime customers can import bulk email messages to Groove Mail. Also, Groove Mail only works if you create a free business domain and add a temporary STMP provider.
Groove Mail works because it was inspired by ActiveCampaign. ActiveCampaign is a major email marketing platform that works! There's a bonus since you pay less for marketing emails with Groove Mail than you would with ActiveCampaign.
Groove Mail comes with all of the standard email marketing features. Some of these are: list creation, forms, tags, and email building sequences. You can integrate Groove Mail with other useful Groove apps like Groove Sell and Groove Mail through its marketing automation feature.
Welcome to Groove Member, which is a unique platform that lets you build a membership following and teach them courses. You can sell a variety of educational products including digital products, online courses, and membership sites.
Advantages of Groove Member
You can create as many membership sites as you want or need to. You can also host courses to your heart's content on each membership site and you can brand your membership sites. You would do that with attractive themes and customized login pages, among other things.
Other perks of Groove Member are: the ability to create pricing tiers and allow members different access levels at various tiers, customizable lessons through text, video downloads, and other important and useful features, time-released drip content, the ability to load pdf, mp3, png, jpg, and other types of files, and the ability to create course portals with only one login requirement.
You can also add different courses for various membership sites, you're not limited in the number of custom domains you can connect these sites to. The membership sites load quickly and look impressive on mobile devices (that's crucial since most students will access your site on a mobile device), and you can limit certain users in membership areas. You can also disable access for certain members.
What's Wrong With Groove Member
Groove Member doesn't offer any quizzes or assessments. It also doesn't have gamification or community features.
Groove Video
Since it's a private video hosting platform you can upload a variety of videos in many formats. These include public and private videos. These types of videos can add more 'punch' to your online courses and membership sites.
Advantages of Groove Video
You can upload, host, and track private videos, you can upload responsive video sizes, you can mute videos immediately after starting them, you can autoplay and load video titles, and you can add an 'optin' to unlock videos. In fact, that's invaluable when you're trying to create lead generation lists.
You can also embellish videos by adding banners to them, you can make your videos even more impactful by adding text overlays to their tops, you can create sales-oriented videos with CTA banners or overlays, and you can host your own videos since Groove Video integrates them with Groove Member.
You have lots more freedom with Groove Video. For example, you can customize video control players and buttons. You can also add branded colors. It's possible to connect Amazon's s3 and 3rd party storage with a free account. You'll get reports that will show and interpret impressions, unique views, total videos finished, and total watch time. Finally, you'll get unlimited video hosting if you sign up for the Pro plan.
A Note About Groove Video
You can only host 5 videos on the free plan, but you're not limited to that on the Pro plan.
It's a comprehensive E-commerce platform that allows you to sell physical brands. Groove Kart is similar to Shopify in many ways.
Advantages of Groove Kart
You can move your Shopify Store to Groove Kart in just a few minutes and with just a few clicks of your mouse. It's easy to create a great store on Groove Kart. Its store wizard will walk you through the process in six easy steps. So, you can create a Groove Kart store even if you don't know how to use the Internet.
Groove Kart was designed for those whose stores do print on demand and dropshipping. The store and product pages are also customizable. Those features lead to much higher conversion rates. It has built-in apps that allow you to add more value to your courses. These include quizzes, product reviews, spin wheels, live chat coupons, Facebook messenger integration, GDPR compliant notices, Zapier, and much more!
You can use the following gateways to accept payments: PayPal, Stripe, Authorize.Net, nuvei, Uviba, Card PMT, Gateway, Banxate, 2checkout, and Cash on Delivery. Note that there are many more payment gateways that you can integrate with Groove Kart to accept payments.
All plans offer an unlimited number of Groove Kart stores.
It's a lightweight blogging platform. You'll find that Groove Blog will load faster than the speed of light, literally. You want and need it if you do any type of small scale blogging.
You want Groove Blog since it loads at extremely fast speeds, it's intuitive, so you can easily create quality blog posts that will drive more traffic and conversions in just a few minutes, you can connect Groove Blogs to social media profiles, you can also integrate the blogs into your own site with your own domain, and you can monetize your site by embedding Ad tracking codes.
Groove Blog's advantages don't end there though. You can embed tracking codes and ad pixels on your blog page, and Groove Blog will take care of hosting for you!
Disadvantages of Groove Blog
It only has one theme, you can't import WordPress blogs, and it's advanced SEO features are somewhat wanting.
You can make money off of your best webinars through this feature. Automated Groove Webinar is an automated webinar funnel. You have many options with it. For example, you can set up one-time or recurring webinar schedules, you can also set the number of webinars you will host in a particular time zone, and you can use polls, chats, live chats, sticky messages, and featured comments to hook people on your webinars.
The goodies don't end there though. you can use file sharing and proof purchase popups to create engaging webinars that will attract people who aren't signed up for your courses.
GrooveWebinar Automated allows you to create unlimited webinars and integrate them into GroovePages, GrooveSell, and GrooveMail.
Use GrooveAutomation to connect software from other platforms and automate GrooveMail, GroovePages, GrooveSell, and other Groove products' marketing tasks. Groove's web hooks will allow for integration to other platforms and Groove products as well.
It's a digital help desk that answers customer service, billing, and support inquiries. It integrates with GrooveSell and GrooveMail, so you can easily issue refunds and reply to emails.
You can hook GrooveCalendar with Google Calendar for amazing abilities. It's possible to communicate and connect with people who use Google Calendar. For example, you can schedule and book Google Calendar meetings through GrooveCalendar.
GrooveCalendar is also compatible with GrooveSell. That allows you to sell coaching and consulting sessions. You can also set up calendars that everyone can view to show your availability. You're not limited in the number of GrooveCalendars that you can set up.
It's Groove's brainchild. GrooveWebinars lets you schedule and host live webinars. You can integrate polls, surveys, popups, countdowns, and offers into the webinars.
GrooveProof is a part of GrooveSell. You can use it to show proof on social media platforms that people are buying your brands. You'll have unlimited access to social proofs if you sign up for the lifetime plan.
You'll be able to send live content to all popular and major social media platforms from your browser. It's a cloud-based product, so it will work on any operating system.
You use the drag and drop builder to create impressive surveys that will ask the questions that will allow you to understand exactly what your customers want to buy from you. You'll sell more brands instantly with that knowledge.
You'll create quizzes that give lots of quality leads. You can collect, and export responses to GrooveMail for stellar email marketing campaigns that deliver results.
You'll use the drag and drop canvas to map and plan out your sales and marketing funnels. GrooveFunnel Mapping allows you to predict different ways your funnels may flow before building them.
It's CRM and pipeline management software that will help you get many more qualified leads that have a higher close rate. You'll use GroovePipe CRM to monitor the big deals that will grow your business. GroovePipe CRM integrates into GrooveCalendar and GrooveMail. so it's perfect for monitoring and managing your email marketing and digital marketing campaigns. It can also help monitor and manage your sales campaigns.
It's Groove Digital's software development kit. You can use it to develop stellar apps, extensions, and plugins for all Groove products and apps. It's ideal for those who sell software products.
You can list your brands on GrooveMarketplace if you subscribe to a Groove product. GrooveMarketplace is a great place to start to sell your brands. You can recruit other Groove users to become affiliates (sell your brands for you!)
Here's how it works. You filter products on the ClickBank by niche, become an affiliate, start selling certain brands, and collect a hefty commission. If you were to go onto ClickBank, you would see that popular products would be assigned a "Gravity Score!" The Affiliate Marketplace, on the other hand, has an "Affiliate Power Score" APS.
People prefer using GrooveMarketplace since they have no issues in selling their products quickly.
Groove.cm's Pricing Plans
You can access all apps by signing up for the free plan. You won't have to enter your credit card information in to sign up for this plan. The only issue is that it has bare bones features since it's a free plan. The good news is that you don't need a credit card to access the free plan.
You'll need to subscribe to a paid plan if your business is more complex (as the majority of businesses are) and you need more extensive features. You can sign up for three plans: the free plan, the starter plan, and the Pro plan.
The good news is that the Free plan is free for life. You can store up to 500 contacts, you'll get one custom domain, 25 pages that are hosted, infinite E-commerce stores and products, you can integrate PayPal, Stripe, and GroovePay payment gateways, you can host up to 5 videos, and the plan charges a 3% fee for transactions.
The Starter Plan lets you store up to 5,00 contacts. You'll pay $79 a month for many more features including 5 custom domains. I must add that you can put a website, funnel, blog, and/or membership site in each custom domain. You'll be able to host up to 250 pages and you're unlimited in the number of Groove subdomains that you can host.
You can create as many ecommerce stores, gateways, and products as you want. A perk is that you won't pay platform fees. You'll get team accounts for up to 5 people and you can host up to 5 videos.
The Pro Plan costs $239 a month. You can store up to 30,000 contacts, send out marketing and other emails to your heart's content, host infinite custom domains, sub domains, web pages, Ecommerce stores, products, and gateways. The platform fees are completely waived.
The Groove.cm Pro Plan also offers gives you access to infinite team accounts, hosting videos, and automated webinars.
Which Should You Use for Email Marketing?
So, now you've seen that Groove.cm and Kajabi are great email marketing platforms. That said, which is better for you to use? It's time to do a feature by feature comparison to answer that question.
Online Membership sites
When it comes to online membership sites, you're better off using Kajabi since it was designed to help your students learn better through quality online courses.
Sales and E-commerce Cart Checkout Features
You want to use GrooveSell if you sell lots of products and are cash strapped. You can choose between either platform if that's not the case.
Landing Page and Website Templates
Choose Groove.cm because it's loaded with lots of diverse template options that will help you sell your brands faster and Kajabi isn't. You can also do A/B split testing better with Groove.cm
Affiliate Programs
Groove.cm wins out since its affiliate program is better and the payouts and offerings are higher, so your affiliates will have more of an incentive to sell your brands.
Automated Email Marketing
You should choose Groove Mail since you can do split testing with it and you can't with Kajabi.
Conclusion
Groove.cm is a much better automated marketing email platform since it has many more options, functionalities, and abilities. Yes, Kajabi is also good, but if you want to gain a competitive advantage that's sustainable over your competitors so that you can outsell them, use Groove.cm!