In the building of sales funnel pages, landing pages and domains there are diverse software tools available in the market. If you have a business, obviously you need all such pages and funnels. Buying them individually is expensive. In this article, we will talk about Clickfunnels pricing, reviews and plans.
What if we get them all in one place? What if they are easily customizable as per our needs? Anyone will be excited to get such an opportunity. Here it is, in the form of CLICKFUNNELS. Clickfunnels is a software that works to market, sell and deliver products & services. It is the best sales funnel builder with an easy to customize option. To avail the services, we have variant Clickfunnel pricing.
Table Of Contents
Why Clickfunnels?
Before we go deep into each pricing plan. I would like to bring an interesting thing about clickfunnels. For example, let us suppose we bought a product or service in the market. And we paid so and so amount. Then we start using the product or service. But there are probabilities that we may or may not be pleased with it. Though we might have been aware of its features, functions & usage through reviews.
To avoid all such possibilities. Clickfunnels will provide you with a free 14-day trial pack.
Wow! It's truly interesting……..
Why would anyone miss an opportunity like this? At no cost, we are getting a chance to use and understand clickfunnels. We are at least earning $50 in one way. And in another way, we can also save our $97 if we don't find clickfunnels worth.
What are the Clickfunnels Pricing Plan?
So let's discuss the pricing briefly and see what are the benefits that we receive. When we land into the clickfunnels website, two plans are displayed. They are :
Basic or standard plan ($97 month)
Etison suite plan ($297 month)
I hope many people who have a running business are eagerly waiting to learn about the pricing. And improve their business with the most suitable plan. Your wait has ended now. As you finish reading this article you will be a clickfunnels user.
Basic or Standard plan ($97 month)
This plan is just $97 per month. We have limited access for this plan, like 20 sales funnels, 100 pages, 20000 visitors, 3 domains and unlimited contacts.
You might have concerning about 20 sales funnels. To your kind information, clickfunnels can build unlimited sales funnels. But you can run only 20 funnels at a time with the standard plan.
This plan is suitable for small and medium scale business. Where 20 sales funnels are more than required to run a business smoothly and efficiently.
SIGN UP FOR CLICK FUNNELS 14 DAYS FREE TRIAL >>
Features of Standard Plan:
3 Custom domains
A/B split tests
Email Integration
Click pops
Click opt-ins
Sales Funnels
Webinar Funnels
Hangout funnels
Order Pages
Upsell Pages
Downsale pages
Share your Funnels
Membership Funnels
Auto Webinar Funnel
1 SMTP Integration
Billing Integration ( 1 Per Type)
Etison suite pricing plan:
This plan is at $297 per month. We have unlimited access for this plan, like n number of sales funnels, n pages, many domains and unlimited visitors.
For this plan, we have flexible options. We can create as many funnels as required. Which can run our multiple functions at a time? A large enterprise can make huge benefits from this plan. It is best suitable for large scale business with high traffic of visitors.
Features of Etison suite:
Unlimited funnels
Unlimited pages
Unlimited custom domains
Actionetics
Visual E-mail builder
Manage Email lists
Send Broadcast E-mails
Tracks open and Clicks
Action funnels
Autoresponders series
Magic Social contact profiles
Backpack
Unlimited Affiliates
Easy to set up- 1 click
Subscription Plans
Manage Affiliates
3 SMTP Integration
Billing Integration (3 per type)
Explain Briefly About Clickfunnels?
Businesses market, sell and deliver their products with the help of sales funnels. Funnels are the driving tools that will help any business to run smoothly and safely. There are many online sales funnel builders. Clickfunnels is one among them. It can drive huge and repeated traffic to a business. Because it's an easily customizable and flexible funnel builder. It has diverse characteristics and features which will differentiate it from other funnel builders.
How useful are the Actionetics & Backpack?
Apart from sales funnels, pages, domains & visitors. We have access to some great features. Which is really gonna compel you to choose this plan. These features are:
The names are truly athletic, adventurous & travel-friendly. But do they function and generate such an enthusiastic feeling as their names sound? let's consider one by one to perceive their actions.
Actionetics: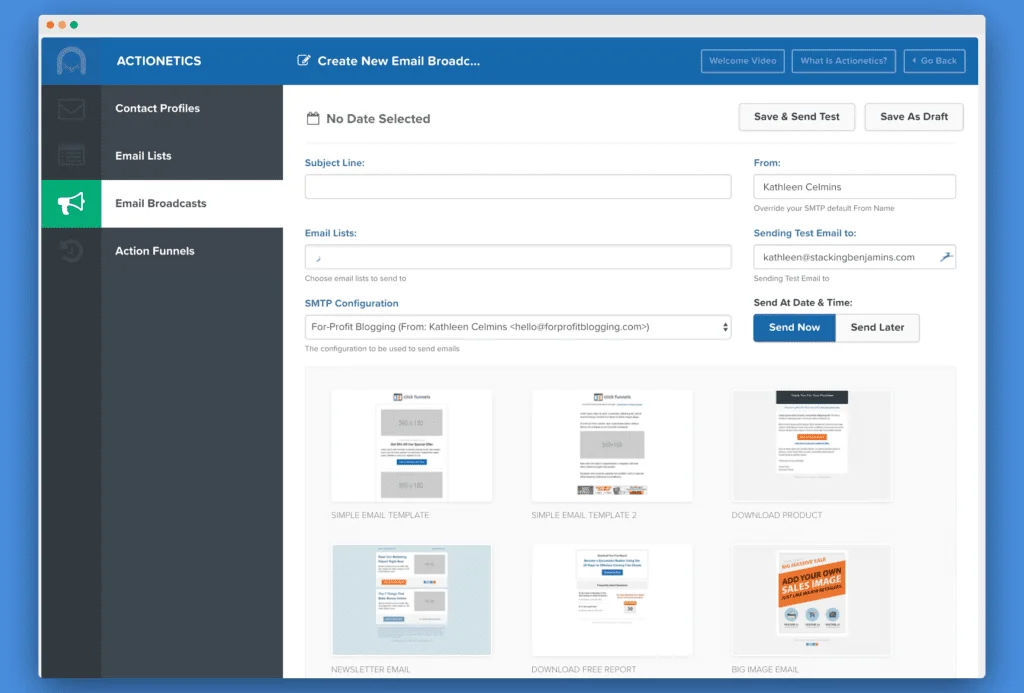 Actionetics is clickfunnels built-in email responder system. With this, you can create action funnels. And the action funnels will directly integrate with sales funnels to send smart or auto emails to your customers. This is really a helpful tool provided in etison suite plan. Some of our email burdens will be reduced.
SIGN UP FOR CLICK FUNNELS 14 DAYS FREE TRIAL >>
Features of Actionetics:
Auto e-mail list builder:(smart list ):It helps to create your email list. You just need to turn on the "smart list " option while you are creating your email list. It will automatically add and remove contacts from any contact list depending on your applied filter. You may filter it by applying the following rules:
A contact who visit a specific page of your funnel.
A contact who purchase a particular product
Match a contact who has opened your e-mail at least once
Save unlimited contacts: You may found lots of software in the market for which you have to pay a certain amount to save a certain number of contacts. If you want to save more numbers then you need to upgrade your plan. Thus it becomes s too expensive. Whereas in actionetics you can save unlimited contacts in a single account.
Flexible funnel: The action funnels are very flexible to use. It consists of a series of steps where you can send an email or trigger any action. Actonetics offers some third party app integrations like facebook. Thus you can use most out of your Facebook ads by integrating your ads with actionetics.
Backpack:
The backpack is another great feature in clickfunnels etison suite plan. It is the own affiliation system of clickfunnels. Suppose we have a product to sell. It would be really burdensome to handle all other chores and selling. To ease our selling, we can create our affiliate program and also recruit marketers who can sell the product.
Clickfunnels is providing us with such a system in the form of a backpack, which can truly simplify our business.
Apart from the standard and etison suite plan, there is also a little plan or share funnel plan. This comes with very few options. We can only add 3 funnels and 10 pages. The cost of this plan is only $19 per month. As I discussed the free trial plan. This share funnel plan can also be used as an experimenting plan to understand clickfunnels. Some people can't grasp the required knowledge in 2 weeks using the free trial plan. So this low budget plan will surely help you learn through experimentation.
SIGN UP FOR CLICK FUNNELS 14 DAYS FREE TRIAL >>
Features of Backpack:
Dashboard: it has a dashboard which shows all your affiliate program related data. Starting from your affiliate earns to how much commission you have earned and all.
Affiliate section: There is a separate section where your affiliates will add automatically. you may add your affiliates manually as well.
Affiliate types: Here you can create different types of affiliates. As clickfunnels offers you multi-tier affiliate program.
Affiliate funnels: All your affiliate program related funnels will be listed here
Payment section: it helps the user to track there due payment. Enabling this feature will help you to pay your affiliates without any dues.
This backpack is the best affiliate marketing tools which can smoothly run the multiple affiliate programs from a single dashboard.
How to Save Money Using Clickfunnels?
As we have gone thoroughly through the pricing plans of clickfunnels. We have now understood the different pricing. But in today's market, the discount is the demand of the customers. Every individual will expect some sought of discounts on products or services they purchase. I'm really sad to inform you that clickfunnels have no such discounts for monthly packs.
But what if I say clickfunnels have some really beneficial and money saving plans. I feel cheerful enough to describe the plan. Funnel builder secrets at a cost of $ 2997 per annum. A total savings of 15.9% for this plan. That is every month we have to pay $ 249.7 instead of $ 297. A monthly savings of $ 47.3. And also a 12 months free etison suite plan. We can create unlimited sales funnels, pages and traffic for 12 months. Above all savings, you also have some additional benefits through the free training provided with funnel builder secrets. Those are;
Funnel builder secret training
Traffic secret membership
Free access to funnel strips for 12 months
And also funnel hacks master class
If I have a business then neither I will hesitate nor I will waste a single second to think further. I will purchase this plan. And I do believe the same about intellect business owners.
Funnel builders secrets also have a 6-month plan at $ 1997. A monthly cost of $ 332.82. Which is more than the cost for the month of the actual plan at $ 297? So I don't prefer to dig deeper into this plan.
What is Funnel Script Pricing?
Funnel scripts is a web-based tool that is used for writing best copies for your business. To market the products or services of your business successfully, it is utmost important to maintain the copy for sales pages and forms.
Different kinds of scripts are therein in different situations. We can pick any script according to our requirement or situation. You will be given certain fill out blanks for the current situation in the scripts. And after filling the blanks the software will deliver the best copy that you can use. The cost of funnel scripts is $ 497 a year. But with funnel builder secrets it is just an added feature at free of cost.
Are There Alternative For Clickfunnels?
Of course, there are many alternatives. But whether they are better than clickfunnels or not. For this let's study the features and functions comparing to clickfunnels.
Few of the alternatives are :
Thrive Themes
Shopify
Unbounce
leadpages
Instapage
Builderall
Kartra
SamCart
Covertri
SIGN UP FOR CLICK FUNNELS 14 DAYS FREE TRIAL >>
It is basically a collection of tools and plugins designed to be used with WordPress. The tools can build sales funnels and are capable of measuring their performance. A pre-built landing page templates and also a website builder you can use to create sales funnels. It contains all pre-built templates landing pages, opt-in forms, webinar pages and sales pages. The plugs are like quizzes, testimonials and countdown timers which can be added to sales funnels and websites.
Using Thrive Themes you can create any kinds of website. It is mainly a website builder. Whereas Clickfunnels is mainly used for building sales funnels to sell your products and services. The other functions that can be carried are;
Landing pages & leads
Architect
Headline optimizer
Widget and comments
quiz builder
The pricing plans for Thrive Themes are as follows:
Basic membership of $ 30 per month. It has to be paid quarterly. All the tools and plugins available for Thrive Themes are provided. But they can be used in up to 25 websites only. It is suitable for small and medium business. Where you have limited usage of websites.
Advanced membership of $ 69 per month. Even it has to be paid quarterly. All the tools and plugins available for Thrive Themes are provided. Here, there is no limit to the number of websites. All these tools and plugins can be used for n number of websites. It is most suitable for an enterprise or large scale business. Where you have a high usage of websites and sales pages.
When we compare the pricing of Thrive Themes to Clickfunnels. The price difference is too much. Clickfunnels cost is 6 times as much as Thrive themes basic membership plan. Of course, the Thrive Theme is the cheapest way to build your funnel. But what about the functionality in managing the sales funnel. For every managing function, we have to depend on 3rd party services. Thrive Themes have to integrate with 3rd parties for the following services;
Free hosting
Inbuilt payment integration
CRM system
Email autoresponder
One click upsell and downsell
The above-mentioned services are the key players for managing the leads of a business and sales funnels. And also we don't get these services for free. For every service, we have to pay extra dollars monthly other than the $ 30 or $ 60 membership of Thrive Themes.
No doubt that Thrive Themes has unique tools and plugins to create a website focussed on conversions. But most of the enterprises and marketers prefer to have their own tools and services to manage the funnels. Instead of paying to each service individually. The business owner will opt to choose an all in one software tool. That is simple, quick and works efficiently.
Concluding :
As Clickfunnels is one such tool. Which has everything needed for your business at one place? It can create funnels, manage your leads and automate your whole marketing process. And also we can run automated email marketing campaigns & affiliate programs using Actionetics & Backpack. Without the need of depending on any 3rd party services.
Shopify Vs Clickfunnels

Shopify is basically an online store builder which can manage lots of products with the help of an inventory management system. There are lots of themes to build your own website. That can be dragged and dropped as per your choice. You can easily beautify your website with all such options. You have access to tools that can help to set and run your online store. There is a developer community which will assist all your issues. And a building app store full of plugins and integrations which we can add to enhance its function. And also add CSS and HTML codes. Every single website is mobile responsive.
The features included in the Shopify are as follows;
Online store builder
Inventory management system
Analytics dashboards
Customer management system
Sales channels
App store
Payment integration
Shipping and delivery
Mobile app
The pricing plans of Shopify starts from $ 29 per month to $ 299 per month. The basic/entry level plan $ 29 per month for starting a new business.
Medium Shopify plan $ 79 per month for a growing business.
Advanced Shopify plan $ 299 per month to scale high profits for a business
Shopify has really great features to develop a website and sell the products when compared to clickfunnels. Every feature and function in Shopify is smooth and transparent. It also has a similar integration of payment options with multiple payment services like clickfunnels. As Shopify is partnered with the leading shipping service providers like DHL, USPS & UPS.
But despite all the best features Shopify has no knowledge of marketing. And there are no tools which will look after the marketing of a business. I would like to quote Shopify with an example.
Let us suppose that we have the fastest running vehicle and there is no fuel in it. What is the use of having the fastest vehicle? Shopify seems to be similar to this. Marketing is the fuel of any business. You need to be a marketing expert to use Shopify for your business. Without marketing knowledge, Shopify is not at all useful to grow your business.
Whereas clickfunnels has all similar features of Shopify along with some added features especially for marketing. Actionetics and backpack run the marketing campaigns and affiliate programs. Shopify has to integrate with other services at a specific cost to get such features and benefits. No marketing knowledge is required for clickfunnels. Any new bee can create their funnels, market sell and deliver the products or services without many efforts.
Overall I recommend clickfunnels as the best to start a business. And it can assist you as a guide who will take your business to great heights.
SIGN UP FOR CLICK FUNNELS 14 DAYS FREE TRIAL >>
If you are running an online business, then you definitely need tools like Unbounce or clickfunnels. Now choosing the right tool is the time-consuming stuff.
Let me make your journey easier.
But before choosing any tool, you need to define your purpose first. If you just want to create some cool and attractive landing pages, then Unbounce is the perfect tool for you. As in 79$ package, you will be able to create up to 75 landing pages, 8 pop-ups and sticky bar. Every package comes with the Drag and drops builder, Pop-ups and sticky bars, high Converting templates and essential integrations( with WordPress, MailChimp. Google Analytics). You may purchase higher packages depending on your needs. Unbounce is basically a landing page builder.
Features of Unbounce:
Drag and Drop elements.
Landing pages are highly responsive.
Easily add any script
Use full-width background
Publish landing pages on your existing domain or sites
Send push notifications using Unbounce API
Unbounce content Delivery network (CDN) ensures your landing pages, sticky bars load faster from any location.
Dynamic Text Replacement
Works with WordPress
But unlike Unbounce Clickfunnels is a Complete Software. It will cover most of your business needs. In Clickfunnels you can create attractive landing pages and also implement your marketing automation. Using a basic package of 97$ you can create 20 sales funnel with drag and drop landing page builder, 3 custom domains and also you can run split tests, e-mail integration. It will help you to create sales funnel, webinar funnel, membership funnel and also in implementing upsells and downsell. You may upgrade your plan to use Autoresponders, send broadcast emails, track opt-ins and clicks or become an affiliate partner. Know more about Clickfunnels features.
Thus always choose a tool depending on your needs. If it comes to complete business software, then there is no replacement for Clickfunnels. Hence, most of the agencies and entrepreneurs are now prefer Clickfunnels than any other software.

Leadpages is also pretty similar to Unbounce. It mostly helps to create landing pages and helps to collect leads from different tools. It works fine with Facebook and Linkedin. Lead pages also integrate with most of the CRM( Infusionsoft, Zoho etc.), email campaign tools (Mailchimp.drip etc.), WordPress website and Shopify store. It helps to grow your email list faster. The basic plan of 25$ is perfect for new business. As your business grows, then you can upgrade to the PRO version.
Features of Leadpages
Drag and drop builder (elements are image, button, text etc.)
Beautifully designed pre-built templates to pick and customize
Templates are highly optimized and responsive.
It offers split tests. You can test your opt-in forms or landing pages to choose the right version.
It offers integration with various software like CRMs to make most out of your landing page.
Leadboxes helps you to collect leads from the opt-in forms. This lead capturing feature helps you to grow your email list. Thus you can nurture this leads to ensure conversion.
It also works with Email campaign tools like Mailchimp, Aweber etc.
You may publish your landing pages on existing sites or domain.
Pages are SEO friendly
Easy to use WordPress Plugin.
Using leadpages You can easily embed videos and Countdown timer on your landing pages.
But when it comes about complete marketing then Clickfunnels is the best. As you not only just grow your email list with clickfunnels but also nurture those leads effectively which will ensure higher conversion.

Some people think instapage is better than clickfunnels due to its clean design and useful integration.
Features of instapages:
You have to pay $99 per month if you pay annually or else you have to pay $129 per month.
Easy to use drag and drop editor.
Its heatmaps feature helps to analyze how your visitors interact with your pages.
Integrates with "Go to webinar" that you can make live events.
Integrates with email campaign tools like MailChimp, Convert kit, Activecampaign , drip and many others
Well designed inbuilt templates.
Conversion Analytics
Offers Unlimited A/B testing
Integrates with third-party platforms. Supports 40+ integrations.
But you will not be able to use split testing in the Core plan. In that case, you need to upgrade to Enterprise plan where you need to pay $179 per month. Thus it will become too expensive for the small business owners.
At the same time, Instapage does not come with pre-built sales funnels. You need to spend extra time to build those funnels.
Instapage does not offer shopping cart features and payment gateways. Thus it would not be ideal for e-commerce businesses.
Due to the above limitations of instapages I always suggest choosing Clickfunnels over Instapages.
SIGN UP FOR CLICK FUNNELS 14 DAYS FREE TRIAL >>

Builderall is also a funnel builder tool like Clickfunnels, let's talk about features of builderall.
Features of builderall:
Custom domains
Drag and drop builder
Pre-built funnel templates
Set up and cloning of funnels
Supports third-party Autoresponders
Mobile responsive
Add pixel and tracking code
App builder. You may develop your own android and ios applications as well.
Heat Map tool
Browser Notification
Facebook Messenger chatbot
Share locker
Script generator tool
Animated Video creator
Presentation builder
Design studio and mockups
Builderall also is cheaper than clickfunnels. It will cost you $49 per month. As i have mentioned above all the cool features of builderall, thus it is always better for you if you have less than 10,000 subscribers. But if you have more than 10k subscribers then you should opt clickfunnels over builderall.
If you have a startup and you are short with the budget then it is better to choose builderall than the standard plan of Clickfunnels. As for Clickfunnels standard plan you have to pay $97 per month where won't get the Actionetics and backpacks features. Where you can get all the essential features in builderall with just $49 per month. As your business grows then you can subscribe the Enterprise plan of the Clickfunnels.
Kartra vs Clickfunnels:

Kartra is also a funnel builder. It provides a bunch of solution to your online business.
These are the following features of the Kartra:
Full Featured product Cart
Drag and drop builder
Membership sites feature
Email marketing with powerful automation
Custom domains
Help desk portals
Dynamic follow up
Analytics tool. Tracks the entire customer path.
Why Clickfunnels is better than Katra?
If you are in e-commerce business then you need flexibility in products and Variations. In that case, clickfunnels is better to compare kartra.
Even if you want to run multiple businesses from a single account, thus clickfunnels offers that feature too. You can have multiple domains in a single account. It helps when you want to generate leads from different business. It makes your lead campaign hassle-free.
If you are thinking about to host a webinar or want to develop a Webinar Funnel then Clickfunnels is the right tool for you. It' offers lots of advance feature in developing a successful webinar funnel.
The only reason you may choose the Kartra if you are short in budget. Thus you can choose Kartra over Clickfunnels standard plan. As you will get the marketing automation and affiliate program features with $89 per month.
SIGN UP FOR CLICK FUNNELS 14 DAYS FREE TRIAL >>
SamCart Vs Clickfunnels
Samcart provides one of the best shopping cart services to online businesses. Its mostly focused on designing smooth and optimized cart transaction and checkout pages. Thus you may increase your customer retaining percentage by using samcart. But this does focus on building a sales funnel and developing landing pages.You can develop one click upsell using samcart. It makes paypal integration with your shopping cart easier and hassle-free.
Here are the following drawback of the Samcart
Poor Sales funnel support
Not supports integration with Email marketing tools.
Marketing Automation is also not possible with samcart.
You need to upgrade your plan to get more useful features.
Thus if you want to manage all your business marketing works from a single dashboard then obviously it should not be the right tool for your business.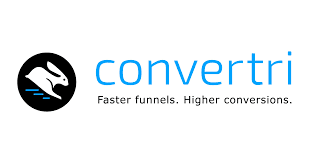 Convertri is a true drag and drop funnel builder. In convertri you don't need to insert any rows and columns. You can simply drag the elements and build your landing pages. Here are the following features of Convertri,
Lots of pre-built templates to use.
Responsive designs
Load Faster
Custom domains
Split test
Sticky headers
Two-step opt-in
Unlimited layers on any page
Custom HTML, CSS and scripts
Adjustable image compression
Element cloning
Having the above features do not make it a complete software, as it does not support third-party integration and marketing automation. Thus despite becoming cheap, it still not worth for your business according to me.
Clickfunnels complaints:
The problem for newbies: As Clickfunnels comes with a lot of features, thus it may confusing for newbies. Thus it better to participate in the training programs and get to know about different features and their applications as well. But if you don't have the time to learn about clickfunnels then it will be better to hire clickfunnels experts. Otherwise, you will lose all your money which you have invested in clickfunnels. You may connect to our clickfunnels experts to make most out of that.
Problem to build a membership website: if you want to develop a membership site then you may face some trouble during that. It is complicated to extract your site content from clickfunnels if you do not subscribe to clickfunnels anymore. Thus it is better to use WordPress when you are developing a membership website.
Expensive plans: Using the standard package of Clickfunnels you may not be able to use actionetics and backpack feature of clickfunnels. In that case, you need to purchase autoresponders separately. Thus it becomes expensive for some small business owners and agencies.
There is no 24*7 support. Sometimes support team takes little time to respond.
Difficult to Integrate with the Squarespace sites.
If Clickfunnels hosting fails then your pages or sites go down as well.
SIGN UP FOR CLICK FUNNELS 14 DAYS FREE TRIAL >>
Is Clickfunnels worth it – does it fulfilled expectations?
As Clickfunnels comes with lots of features. , thus it will help you to boost your sales process and profits.
But to judge the value of clickfunnels you should make a list of business marketing requirements. Fortunately, clickfunnels will tick your all boxes. It comes with all the features that a successful entrepreneur needs. Clickfunnels is useful in any kind of business whether it is small or big.
If you have any doubt on Clickfunnels then start the 14 days free trial and explore all the features. You may participate in the training of clickfunnels. In short, there is a way to use clickfunnels successfully and effectively.
The best thing about Clickfunnels is that you can manage everything from a single dashboard. You do not need to pay for different tools if you are using clickfunnels. You can build your website or landing pages using Clickfunnels. You don't need to pay for the external Email service provider as Clickfunnels comes with ESP tools like MailChimp, drip, Aweber etc. At the same time, you can integrate your useful applications or software with clickfunnels. Most importantly you don't need any technical knowledge as it is a simple easy to use drag and drop builder. Thus from each and every perspective Clickfunnels worth it and you should start using this from today. If you still have any doubts on clickfunnels then you can connect with our clickfunnels experts.
Conclusion:
You may get the different types of funnel building software in the market but Clicckfunnels is the only software which comes with the educational community that will help you to sharpen your marketing skills.
There is no doubt that you will get maximum return on your investment in clickfunnels. As ,clickfunnels comes with prebuilt 6 funnels which you can use right after purchasing or you may customize it according your Campaign objectives.
Types of funnel you can build using Clickunnels are listed below:
Sales Funnel
Product launch Funnel
Perfect webinar funnel
Fishbowl funnel
Network marketing funnel
Membership sites
Hence, Clickfunnels meeting most of your business requirements. Thus why you should invest in different tools to meet your several business needs. In Cickfunnels you can manage everything from a single dashboard. Once you learn how to use clickfunnels in the most optimized way then you will be able to generate more revenues for your business. You may comment or reach us to know more about clickfunnels.