Introduction 🌟
In the age of digital learning, the need for effective online course platforms has skyrocketed. With the increasing demand for quality educational content, two platforms have emerged as industry leaders: Thinkific and Learnworlds. In this comprehensive article, we'll dive deep into the details of these two powerful platforms and provide an unbiased comparison of their features, pricing, user experience, and more. By the end of this article, you'll have a clear understanding of which platform is better suited for your specific needs and goals. So grab a cup of coffee, sit back, and let's explore the world of online course creation together! ☕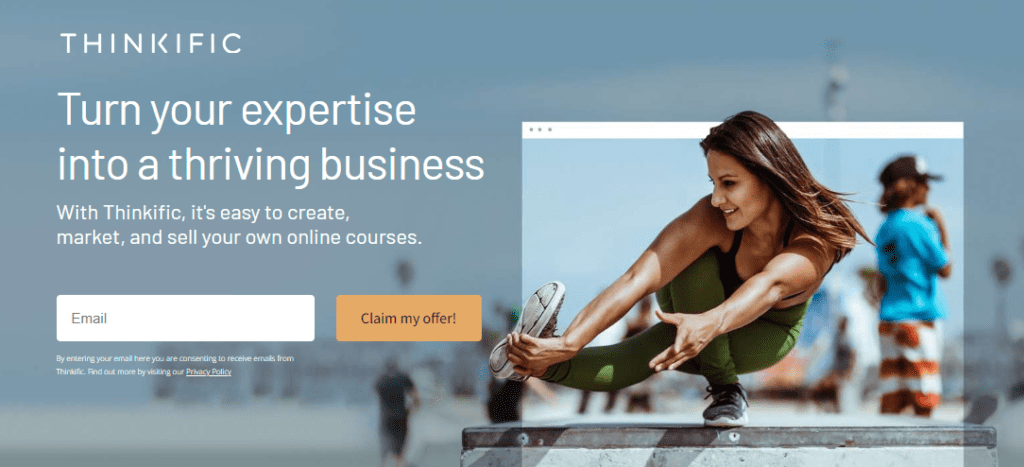 As you embark on your journey to create or expand your online educational empire, you'll likely find yourself facing a critical decision: which platform should you use to host and deliver your courses? In this article, we'll explore two of the industry's leading platforms, Thinkific and Learnworlds. We'll dive into their features, pricing plans, ease of use, customer support, and overall user experience, giving you a thorough understanding of each platform's strengths and weaknesses. Our goal is to help you make an informed decision when choosing the best platform for your unique needs.
Thinkific 🎓 is a powerful, all-in-one platform designed to help creators build, market, and sell their own online courses. With its user-friendly interface and robust set of features, Thinkific has become a popular choice for educators, entrepreneurs, and experts in various fields looking to share their knowledge with the world. Boasting a community of over 50,000 course creators, Thinkific has helped users generate more than $650 million in revenue.
Learnworlds 🌐, on the other hand, is a comprehensive online course platform with a focus on delivering an engaging, interactive learning experience. Known for its flexibility and customization options, Learnworlds allows course creators to design unique, personalized learning environments that keep students engaged and coming back for more. With thousands of satisfied customers, Learnworlds is a platform that fosters long-term success for course creators.
⚖️ Purpose of the comparison article
The purpose of this comparison article is to provide an in-depth, side-by-side analysis of Thinkific and Learnworlds, helping you determine which platform is the better fit for your needs. We'll evaluate each platform based on course creation tools, marketing and sales features, learning management systems (LMS), integrations, user experience, and pricing plans. By carefully considering each aspect of these platforms, you'll be able to make an informed decision when choosing the right platform for your online course business.
Features Comparison 🔍
In this section, we'll compare the main features of Thinkific and Learnworlds, giving you a comprehensive understanding of the tools and functionality each platform offers. We'll discuss course creation tools, marketing and sales features, learning management systems, integrations, and user experience.
1️⃣ Course Creation Tools
🔨 Thinkific Course Creation Tools
Drag-and-drop course builder: Thinkific's intuitive drag-and-drop course builder allows you to create and organize your course content quickly and easily, including multimedia elements like videos, quizzes, and surveys. It streamlines the course creation process, making it simple for even non-technical users.
Pre-built course templates: With a variety of pre-built course templates, Thinkific helps you get started quickly while maintaining a consistent look and feel across your courses. These templates save time and provide a professional appearance for your online courses.
Multimedia content support: Thinkific supports a wide range of multimedia content, including videos, audio files, PDFs, and more. This versatility allows you to create engaging, dynamic courses that cater to various learning styles and preferences.
Quiz and survey tools: Thinkific offers built-in quiz and survey tools, enabling you to assess your students' progress and gather valuable feedback. These tools enhance the learning experience and help you continually improve your courses.
🛠️ Learnworld Course Creation Tools
Interactive course builder: Learnworlds' interactive course builder provides a user-friendly interface for creating visually engaging courses with various content types like video, text, images, and interactive elements such as quizzes and polls. This builder encourages course creators to develop interactive learning experiences for their students.
Customization options: Learnworlds offers extensive customization options, allowing you to personalize your courses to match your brand and style. These options enable you to create unique, visually appealing courses that stand out from the competition.
Social learning tools: Learnworlds integrates social learning tools, such as discussion forums and community features, to foster interaction between students and encourage collaborative learning. These tools help create a sense of community and improve student engagement.
Interactive video features: Learnworlds allows you to add interactive elements to your videos, such as hotspots, quizzes, and pop-up messages. These features make your course content more engaging and help your students better absorb and retain the material.
2️⃣ Marketing and Sales Features
📈 Thinkific Marketing and Sales Features
Built-in payment processing: Thinkific offers integrated payment processing, allowing you to easily collect payments for your courses using popular payment gateways like Stripe and PayPal. This simplifies the sales process and ensures a seamless experience for your students.
Advanced pricing options: With Thinkific, you can set various pricing options for your courses, such as one-time payments, subscriptions, memberships, and bundled courses. This flexibility allows you to cater to different customer preferences and maximize revenue.
Marketing integrations: Thinkific integrates with popular marketing tools like Mailchimp, ConvertKit, and Google Analytics, helping you streamline your marketing efforts and better understand your audience.
Affiliate management: Thinkific's built-in affiliate management tools allow you to recruit, manage, and track affiliates who promote your courses, helping you expand your reach and increase sales.
🚀 Learnworld Marketing and Sales Features
Sales page templates: Learnworlds offers customizable sales page templates designed to help you effectively promote your courses and boost conversions. These templates provide a professional appearance and make it easy to showcase the value of your courses.
Drip content scheduling: With Learnworlds, you can schedule the release of your course content over time, keeping students engaged and encouraging long-term retention. This feature helps create a sense of anticipation and excitement among your students.
Built-in email marketing: Learnworlds includes built-in email marketing tools, allowing you to communicate with your students, send course updates, and promote new offerings. These tools help you stay connected with your audience and encourage repeat purchase.
Conversion tracking and analytics: Learnworlds provides detailed analytics and conversion tracking, helping you understand the effectiveness of your marketing efforts and make data-driven decisions. These insights enable you to optimize your marketing strategies and boost sales.
3️⃣ Learning Management System (LMS)
🎓 Thinkific Learning Management System
Progress tracking: Thinkific's LMS allows you to track your students' progress, giving you insights into their performance and engagement levels. This information helps you identify areas for improvement and tailor your courses to better meet your students' needs.
Student management: With Thinkific, you can easily manage your students, including enrolling and unenrolling them, granting access to specific courses, and organizing them into groups. This functionality simplifies student administration and ensures a smooth experience for both you and your students.
Certificates and gamification: Thinkific offers built-in certificates and gamification features, helping you recognize and reward your students' achievements. These features encourage engagement, motivation, and completion of your courses.
Reporting and analytics: Thinkific's LMS provides in-depth reporting and analytics, allowing you to monitor the performance of your courses, identify trends, and make informed decisions to enhance your offerings.
🏫 Learnworld Learning Management System
Interactive learning experience: Learnworlds' LMS focuses on creating an interactive, engaging learning experience for your students, with features like interactive video, social learning tools, and customizable course content. This approach helps to keep students interested and boosts knowledge retention.
Comprehensive student reporting: Learnworlds offers detailed student reporting, allowing you to track students' progress, engagement, and performance. This information helps you refine your courses, provide targeted support, and improve overall learning outcomes.
Course compliance features: Learnworlds includes course compliance features, enabling you to ensure your courses meet industry standards and regulatory requirements. This functionality is particularly useful for creators offering courses in regulated fields, such as healthcare or finance.
White-labeling and branding: Learnworlds allows you to white-label your courses and LMS, providing a fully branded, professional appearance that matches your brand identity. This feature helps to build trust and credibility with your students.
4️⃣ Integrations
🔗 Thinkific Integrations
Marketing and sales tools: Thinkific integrates with popular marketing and sales tools like Mailchimp, ConvertKit, Zapier, and Google Analytics, streamlining your marketing efforts and helping you better understand your audience.
Payment gateways: Thinkific offers seamless integration with popular payment gateways like Stripe and PayPal, simplifying the process of collecting payments for your courses.
Third-party applications: Thinkific's open API allows you to connect with various third-party applications, giving you the flexibility to extend the functionality of your online courses and LMS.
Webhooks: With Thinkific's webhooks, you can automate tasks and trigger actions based on specific events, helping you save time and streamline your workflows.
🔌 Learnworld Integrations
Popular marketing tools: Learnworlds integrates with well-known marketing tools like Mailchimp, AWeber, and ConvertKit, enabling you to automate your marketing efforts and better target your audience.
Payment processing: Learnworlds supports integration with popular payment gateways like Stripe, PayPal, and 2Checkout, ensuring a seamless payment experience for your students.
Learning tools integration: Learnworlds offers integration with learning tools like SCORM and xAPI, providing compatibility with various eLearning standards and allowing you to import and export course content.
Custom integrations: With Learnworlds' API and Zapier integration, you can connect your LMS to a wide range of third-party applications and services, expanding the capabilities of your online course platform.
5️⃣ User Experience 🚀
👩‍💻 Thinkific User Experience
Intuitive interface: Thinkific's user-friendly interface makes it easy for course creators and students alike to navigate the platform and access the features they need. This simplicity results in a positive user experience for everyone involved. 💡
Mobile responsiveness: Thinkific's platform is designed to be mobile-responsive, ensuring a seamless learning experience for students accessing courses on their smartphones and tablets. 📱
Customizable course player: Thinkific allows you to customize the course player to match your brand's look and feel, creating a cohesive and professional appearance. 🎨
Resource library: Thinkific offers a comprehensive resource library, including articles, tutorials, and webinars, to help you make the most of the platform and grow your online course business. 📚
🌐 Learnworld User Experience
Flexible course design: Learnworlds' focus on customization and flexibility ensures that you can create unique, engaging courses that cater to your students' needs and preferences. This results in a more enjoyable learning experience. 🎉
Interactive learning features: Learnworlds offers a range of interactive learning features, such as interactive video and social learning tools, that help to keep students engaged and foster a sense of community. 🤝
White-labeling options: Learnworlds allows you to white-label your courses and LMS, providing a fully branded, professional appearance that helps build trust and credibility with your students. 🏷️
Customer support and resources: Learnworlds offers extensive customer support and resources, including a knowledge base, video tutorials, and live chat support, ensuring that you have the help you need to succeed. 🙌
Pricing Comparison 💰
🎓 Learnworld Pricing Plans
Learnworlds offers a range of pricing plans designed to cater to various needs and budgets. Their plans include:
Starter: The Starter plan is ideal for new course creators looking to test the waters, offering basic features and support at an affordable price. 💼
Pro Trainer: The Pro Trainer plan is designed for growing course creators, offering additional features and integrations to help scale your online course business. 📈
Learning Center: The Learning Center plan is best suited for established course creators looking to maximize their success, offering advanced features and white-labeling options. 🏫
🎯 Thinkific Pricing Plans
Thinkific also offers a variety of pricing plans to meet the needs of different course creators:
Free: Thinkific's Free plan allows you to explore the platform and create up to three courses, making it perfect for beginners or those wanting to test out the platform. 🆓
Basic: The Basic plan offers additional features and support, making it suitable for small course creators looking to grow their online course business. 🌱
Pro: The Pro plan is designed for more established course creators, offering advanced features, integrations, and support to help you scale your business. 🚀
Premier: The Premier plan is tailored for large-scale online course businesses and includes all features, white-labeling options, and priority support. 🌟
🔎 Feature comparison of pricing plans
When comparing Learnworlds and Thinkific pricing plans, it's essential to consider the features offered in each plan to determine the best value for your needs. Here's a brief overview of the key features included in each plan:
✅ Learnworlds
Starter: Basic course creation tools, payment processing, custom domain, built-in email marketing, and 24/7 customer support via email. 🌟
Pro Trainer: All Starter features, plus unlimited courses, advanced customization, integrations with popular marketing tools, course certificates, and live chat support. 💪
Learning Center: All Pro Trainer features, plus white-labeling options, advanced LMS features, bulk student import, and premium customer support. 🥇
✅ Thinkific
Free: Basic course creation tools, up to 3 courses, quizzes and surveys, content hosting, and access to the Thinkific community. 😊
Basic: All Free features, plus unlimited courses, custom domain, email integrations, drip content, affiliate reporting, and priority support. 📊
Pro: All Basic features, plus advanced course pricing options, memberships and bundles, advanced customization, priority support, and additional course admin accounts. 🌐
Premier: All Pro features, plus white-labeling options, advanced LMS features, bulk student import, and dedicated account management. 🏆
User Experience Comparison 💡
👍 Ease of Use
Both Thinkific and Learnworlds prioritize user experience, offering intuitive interfaces and easy-to-use course creation tools. While both platforms are user-friendly, some users may find Thinkific's drag-and-drop course builder slightly more straightforward, especially for non-technical users. 🖥️
👩‍💼 Customer Support
Thinkific and Learnworlds both offer extensive customer support, including knowledge bases, video tutorials, and responsive support teams. Learnworlds provides 24/7 email support across all plans and live chat support for Pro Trainer and Learning Center plans, while Thinkific offers priority support for Basic, Pro, and Premier plans. 🆘
🗣️ Reviews and Testimonials
Overall, both Thinkific and Learnworlds have received positive reviews and testimonials from users. Many users praise Thinkific for its ease of use, comprehensive feature set, and responsive customer support. Similarly, Learnworlds receives high marks for its customization options, interactive learning features, and robust LMS capabilities. 🌟
Conclusion 🏁
Choosing the right online course platform is a critical decision for any course creator. It can significantly impact the success and growth of your online course business. Both Thinkific and Learnworlds have emerged as leading contenders in the e-learning industry, offering robust features, seamless user experiences, and pricing plans suitable for various needs and budgets. As a course creator, it's essential to weigh the pros and cons of each platform to determine which one is the best fit for your specific requirements. In this conclusion, we'll delve deeper into the strengths and weaknesses of Thinkific and Learnworlds, providing a comprehensive analysis to help you make an informed decision. 📝
Thinkific stands out for its user-friendly interface, making it an ideal choice for course creators who prefer a more straightforward, intuitive course creation process. It also offers a wide range of features, including a drag-and-drop course builder, quizzes and surveys, drip content, and advanced course pricing options. Moreover, Thinkific integrates seamlessly with popular marketing tools, payment gateways, and third-party applications, making it easy to streamline your workflows and automate your marketing efforts. Additionally, Thinkific's responsive customer support and extensive resource library ensure that you have the help you need to succeed. 🌟
On the other hand, Learnworlds shines in the areas of customization and interactivity, offering course creators the flexibility to create unique, engaging courses that cater to their students' needs and preferences. With features like interactive video, social learning tools, and white-labeling options, Learnworlds helps create immersive learning experiences that foster a sense of community and boost knowledge retention. Furthermore, Learnworlds' advanced LMS capabilities, including course compliance features and detailed student reporting, make it a powerful tool for creators offering courses in regulated fields or those looking to refine their courses based on student performance data. 🚀
Both platforms have their own set of advantages and limitations, and the choice between Thinkific and Learnworlds will ultimately depend on your unique needs as a course creator. If you prioritize ease of use and a more streamlined course creation process, Thinkific may be the better option for you. Conversely, if you value customization, interactivity, and a focus on student engagement, Learnworlds could be a more suitable choice. 🎯
🌠 Final thoughts and recommendation
Both Thinkific and Learnworlds are excellent platforms for creating and selling online courses. Ultimately, the best choice for you will depend on your unique requirements and preferences. We recommend exploring each platform's features, pricing plans, and user experiences to determine which one aligns best with your goals and needs. Regardless of the platform you choose, both Thinkific and Learnworlds offer the tools and support necessary to create successful online courses and grow your online course business. 💼