When you first arrive at the ActiveCampaign pricing plan page, there are three things that you're sure to be able to see immediately.
One thing to note is that ActiveCampaign isn't just an ordinary email marketing service. Each plan comes with an impressive set of options, such as SMS email, the automation of social media for marketing email segmentation, visitor tracking, CRM, and AI predictions.
The other aspect that will be an issue for you is that ActiveCampaign's pricing plans aren't easy to understand. While the software offers four major feature packages, their prices aren't set in stone. The cost you pay for your chosen plan depends on the volume of contacts you make.
So, your plan's prices are adjusted according to the package's features and the volume of contacts you prefer. It's a hassle for those who are considering using it.
The truth is that selecting the right ActiveCampaign plan could be a daunting task for both advanced and novice digital marketers.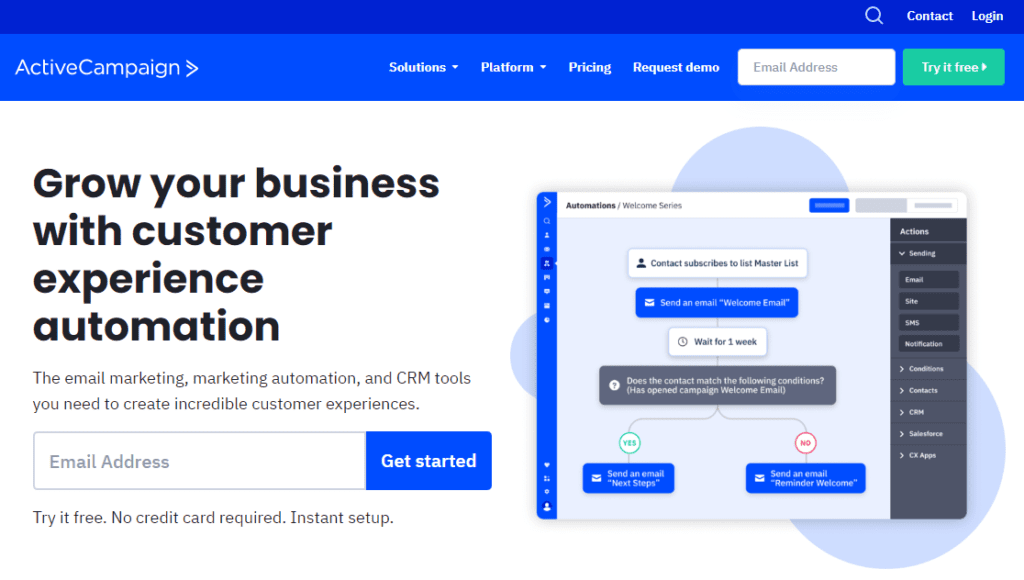 Fortunately for you, we're here to help. This guide outlines all crucial factors for deciding on the most suitable ActiveCampaign cost plan. Apart from the core plan features, it also outlines the different pricing options for each plan and the pros and cons you need to be prepared for.
And to finish it off, we present the most effective ActiveCampaign pricing strategy towards the end of this article.
But, before we go into the depths of all that, we'll start with the fundamentals. So, what exactly do you know about ActiveCampaign in the first place? And what is it doing?
ActiveCampaign: An Overview
It's sometimes referred to as an email marketing tool. However, others believe it's more an instrument for CRM than any other tool.
As per the firm, ActiveCampaign is a solution that goes beyond automating the sending of emails. Instead, they prefer to consider it an application that could enhance the whole customer experience.
What does it mean?
Simply put, ActiveCampaign is a marketing automation software suite that can be used for not just email marketing but also CRM campaigns along with messaging on the web, SMS for marketing, and Facebook chats. It's an all-in-one automation solution for contacting your leads and customers.
Some of the features include tracking of sites, and free image hosting multiple-channel messages, integrations with CRM subscription forms, machine learning and split testing reports and analytics; dynamic content advanced segmentation as well as an intelligent automated email creator email funnels and predictive messaging, lead and contact scoring event tracking, website tracking, as well as computerized maps.
Now that we've tried all of these functions over a long time, we can verify that ActiveCampaign is as reliable as it gets. In addition, it has the tools for automated marketing via email and lead management and online targeting, SMS marketing, and Facebook messaging.
The resulting ROI and value are concerned with the amount you can expect to realize contingent upon the ActiveCampaign pricing plan you select.
To help you do that, here's a summary of the software and a thorough review of its main features.
ActiveCampaign: Features and Benefits
ActiveCampaign offers some excellent features in each of its pricing plans:
Email Segmentation
Your target audience may be large with various demographics as an online-based company. This could make it challenging to manage the procedure of nurturing leads. In addition, you could lose significant amounts because it's not advised to send out emails with identical content to all potential customers.
ActiveCampaign comes with an in-depth sectioning feature for emails to assist you in tackling this issue. It allows you to break up and separate the entire list of subscribers based on many categories, including emails that have been opened, contact information, and location. Other advanced features include the ability to segment users based on the webpage they were referred to or the opt-in box you used to add them to your mailing list.
This feature can be helpful for you if you're using the latest content updates on your blog and want to provide an individual experience to your subscribers you've obtained from different blog posts.
Once you've got a method that assigns tags and defines audiences, you are able to start completely separate campaigns and automated sequences for each of them.
Marketing automation
Marketing automation is often regarded as the main distinctive selling feature (USP) for ActiveCampaign.
Since different businesses have different requirements in marketing, ActiveCampaign realizes that it isn't possible to create an all-inclusive automation solution. In contrast, it offers an automation builder that can assist you in customizing your entry automation process to meet your specific goals and objectives.
"It isn't that simple," you might think. Well, no, don't worry! The entire process is simple as simply pressing, dragging, or dropping various automated rules until you've created the final approach.
The automation section on your account's main dashboard. You'll be able to utilize popular predefined sequences that are compatible with your objectives or create customized automation sequences.
ActiveCampaign can also allow you to create condition-based sequences that adhere to the set rules using the drag-and-drop automation map tool. For example, you can create a sequence activated one day after the subscriber does not open the email you sent to them.
The automation map makes it simple to visualize the user's complete journey. It allows you to add various circumstances and triggers to personalize your marketing emails. It is possible to create lengthy and complex sequences that are based on a variety of different scenarios.
Data on behavior and social aspects of CRM
Personalization is the most important element for managing customer relationships. This is why up to 96 percent of marketers believe it's a great way to establish relationships with leads.
However, personalization and later targeting are based on the personal information of customers that is not usually provided completely by the customers.
Fortunately, ActiveCampaign will handle the difficult work. You can rest assured that ActiveCampaign will do the hard work. With ActiveCampaign's CRM, you'll be able to gain numerous information about the behavior and social information of your customers, for example:
Age and interest
Location
Social feeds
Site activity and previous interactions
This can be useful in the event that you want to improve the complicated automation workflow.
Chats and messages via live chat
Live Chat Conversations is an awesome feature of ActiveCampaign that allows you to engage your visitors on your website and transform users into customers and subscribers. However, the feature is unavailable to users of plans like the Lite or Plus plans, which is a bit of a disappointment.
Here's how it works.
If someone is on your site when they visit your site, they can get in contact with you through Live Chat. You can interact with the person, ask them what they're looking for, and finally, request that they share their email address to provide more details.
When they share their email via chat, ActiveCampaign adds their profile to your email list and activates any automation sequences you've designed for these visitors. It is also possible to send these users SMS messages or Push notifications.
For chat to be enabled, Adding a brief piece of code on your page is enough. A chat window will be displayed on your page's right side a few minutes after you have added the code. It is possible to modify and customize the chat window to fit the design of your website from the chat configuration area on your dashboard.
This fantastic feature does not just help to build your email database, but it also allows you to send specific content to your site's users to maximize engagement.
ActiveCampaign simplicity of use
The initial registration process for ActiveCampaign is simple. It only requires basic contact information (business name and email address, as well as the name) and a series of questions to help you find the correct degree of service. You are then redirected to the UI.
At first glance, ActiveCampaign seems to put excessive information on the screen. There are eight choices on the menu at the top. Within each option, some subcategories offer many more options. This shows how extensively designed ActiveCampaign is; however it may feel too excessive.
Fortunately, the dashboard can be customized. For example, each window on the main dashboard can be moved to a different spot on the screen or shut completely. If you click on this window, you'll get directed to a webpage with all the features.
Before sending out a marketing campaign, you'll need to create the list. It involves filling in the pop-up that will ask you to name the list, the URL for the list, and also an explanation to your contacts on the reason they're listed on the list.
The platform has a wide range of options for creating lists, from simple cutting and pasting to importing a CSV file to importing contacts from 94 different sources (including well-known ones, including Salesforce and Google). You can also export your contact list created by ActiveCampaign to a CSV file.
One of the unique features that the platform provides is The platform's lead scoring. This feature assists sales teams in specifically targeting their contacts by establishing the "rules" and assigning a cumulative score to those who satisfy the requirements. These rules could be geographical zones, rates of response, or rate of response, for example. This will give you an idea of who's getting effectively reached and who's being left out.
ActiveCampaign security features
ActiveCampaign has top security features. The company has established security systems and measures to ensure your customers and your own data are secure.
ActiveCampaign can be described as GDPR-compliant, and, for those who subscribe to the Enterprise pricing plan, it's HIPAA-compliant. In addition, ActiveCampaign integrates security for data into its development process by constantly using in-house tools to check codes and the infrastructure. ActiveCampaign also has an internal "Red Team" which acts as white-hat hackers to test the security of the software.
Its methods for storing information also protect your data. It uses data redundancy which means you will always back up your data. It also secures access to data through the control of passwords, multiple-factor authentication, and keys. Additionally, it safeguards your data with single-tenancy classification. This implies that each user's information is kept separately and is protected with security scanning and application firewalls.
Additionally, all ActiveCampaign email messages are delivered via TLS (Transport Layer Security) encryption, which helps keep your emails safe and informs your customers that the mail is safe to view.
ActiveCampaign integrations and add-ons
ActiveCampaign stands out in this category since it allows users to select from a wide selection that includes more than 350 add-ons, integrations, and other features. These integrations are crucial for the top email marketing platforms as they can transfer information about customers directly from the online shop to your marketing software and directly from the ActiveCampaign accounts to the accounting software you use.
A few of the most common integrations are:
E-commerce:
Magento
Shopify
WooCommerce
BigCommerce
PrestaShop
Payment Processing
Accounting:
Zoho Invoices
QuickBooks Online
Xero
ActiveCampaign can also be integrated with Zapier, a connecting service that opens up a plethora of additional integrations. Additionally, it comes with an API for RESTful, which can be used to create specific connections for third-party applications.
ActiveCampaign: Pricing Plans
Don't get too excited, however, because you won't get the privilege of trying every feature. In addition, the trial is limited to the standard features, whereas the most advanced features are reserved only for those who are on the most expensive pricing levels.
Let's look at each ActiveCampaign price plan in greater detail.
The Features of Each ActiveCampaign Pricing Plan
ActiveCampaign Lite Plan
The Lite plan is the most affordable option on the ActiveCampaign platform, as it comes with the smallest number of options.
The base price that is listed on the pricing page for ActiveCampaign costs $9 per month when you opt for the annual billing option and $15 per month for normal monthly renewals.
This is a substantial discount when you think about it. However, don't forget about it – that's not the only thing you can expect from the Lite plan's price.
It's just that the basic pricing here will only cover those who have 0 to 500 contacts. Any more than that amounts to an increased price that is adjusted after reaching 1,000 contacts. After that, there is a 2,500 contact volume limit that is followed by 5,000, 10,000, 255,000, and so on.
This is a comprehensive overview of the various rates you'll have to pay for a different limit of contacts in ActiveCampaign's Lite pricing plan:
Between 0 and 500 contacts, $9/month with annual billing or $15 per month for monthly billing.
Up to 1,000 contacts Each month, you pay $17 for annual billing for $29 for a month for monthly billing.
Up to 2,500 contacts $39/month with annual billing, which is $49 per month for monthly billing.
Contacts up to 5,000 Monthly costs: $69 with annual billing for $89 per calendar month for monthly billing.
Up to 10,000 contacts Each month: $111 for annual billing or $139 monthly for a monthly bill.
Up to 25,000 contacts Monthly cost: $179 with annual billing of $225 per month for a monthly bill.
Up to 50,000 contacts for $239 per month, with annual billing, or $299 per month for a monthly bill.
Up to 75,000 contacts Monthly cost: $299 with annual billing or $379 monthly for a monthly bill.
Up to 100,000 contacts Each month, you pay $369 for annual billing or $459 per month for a monthly bill.
Therefore, it appears that, even though the Lite plan provides unlimited communication, the development of a huge contact base can have repercussions.
The end result is that those who have the most contacts will pay the highest price for the program despite its basic functions and the absence of sophisticated marketing automation features.
Also, the features you'll find on this page are:
Assistance and Training: Lite-managed delivery of emails (better delivery rates), data migration services, chat support, and email-based support.
Integrations API webhooks, API social media tools, and integrations event and site tracking, fundamental subscription forms, and auto-import from third-party service.
Campaign Functionalities – Paid social information Pay Inbox Preview (email testing) Unlimited sending up to 3 users per account, geo-tracking deep report, auto responders import of contacts from existing accounts, and free email templates. A drag-and-drop email editor marketing automation builder newsletters and email marketing.
In a nutshell, the Lite plan has enough options for automated marketing by email. It's especially suitable for small groups with as few as 1,000 contacts. Unfortunately, after this, the value of the plan begins to decline negatively.
More than 2,500 subscribers, for example, puts you in the same cost range that other email marketing options offer unlimited lists of contacts. Therefore, you may be better off using an affordable service.
In addition to this, aside from that, the Lite pricing plan does not include sales automation tools and lead scoring, including text marketing via SMS, conditional content, and customer relationship management.
Therefore, upgrading to the following Plus plan is ideal if you're looking to implement Omnichannel marketing campaigns.
ActiveCampaign Plus Plan
The ActiveCampaign Plus plan is about the omnichannel sales and marketing automation builder approach.
In particular, it blends email marketing functions along with SMS marketing, lead nurturing along with Customer relationship management (CRM), and custom branding along with lead scoring.
In order to assist you in rolling in and running a massive campaign, this program can accommodate up to twenty team members. As a result, it is the ideal marketing automation tool for small businesses, traditional sales and marketing agencies, and teams.
They can benefit from leverage:
Customer Support and Training Assistance with automation strategies In-depth onboarding and training consultations controlled email delivery, Lite implementation services, data migration service with live chat and email-based customer assistance, as well as one individual training session every month.
ActiveCampaignIntegration Options – Rebranding, SMS subscriptions, database syncing, API, webhooks, social media tools and integrations, site and event tracking, basic subscription forms, auto import from third-party service, plus Facebook custom audience integration.
Campaign Functionalities – SMS-based sending and paid social data, five free inbox previews (email testing) each month, subscription via SMS, unlimited sending, customized user permissions maximum of 25 accounts per user, content that is conditional, Geo tracking, and in-depth report auto responders and import of contacts from existing Email templates that are free to download Drag and drop email creator marketing automation builder newsletters, marketing via email Contact and lead scoring sales automation, integrated CRM, as well as an automation maps.
You'll also have to shell out at least $49 for the service should you opt to go through the billing plan for an annual period. A monthly billing plan, however, will come with a base cost of $70 per month.
As we've seen in the Lite package, the price you pay here is contingent on the number of contacts you've got.
It's important to remember that you're not going to start with only 500 contacts this go. Instead, the ActiveCampaign Plus pricing plan will default accommodate more than 1,000 contacts per month. The price starts rising from there – $99 per month as the minimum for 2,500 contacts. After that, 5k contacts will increase your cost to $135 per month, and so on.
In the end, the different pricing points that are included in the ActiveCampaign pricing plan include:
Up to 1,000 contacts Monthly cost: $49 with annual billing and $70 monthly for monthly billing.
Up to 2,500 contacts Monthly cost: $99 with annual billing or $125 monthly for the monthly bill.
Up to 5,000 contacts Monthly cost: $135 with annual billing or $169 monthly when billing is monthly.
Up to 10,000 contacts Monthly cost $199 with annual billing or $249 per month when you pay monthly.
Up to 25,000 contacts Monthly cost: $319 with annual billing and $299 monthly for the monthly bill.
Up to 50,000 contacts and beyond contact the sales department at ActiveCampaign for a discount.
Well, I do not know about you. However, we'd say this is a balanced plan. While it's more expensive than other plans, such as the Lite plans, this appears to better serve both sales and marketing teams.
It is even competing with the most modern solutions provided by other CRM and email marketing solutions.
The main issue is that having a contact base that is greater than 25,000 puts the plan out of the acceptable price range. That's where rates begin to become less competitive.
ActiveCampaign Professional Plan
While the Plus package is focused on sales and marketing automation, the Professional pricing plans take it to the next level by providing prescriptive insights that can boost the engagement of customers.
In essence, this is the point at which the machine-learning engine kicks to high speed by keeping track of your contacts, analyzing the data that results, and then using the results to calculate the probability of winning, then make predictive content available, and create predictive emailing.
But this isn't all. There's more. ActiveCampaign Professional pricing plan is great for targeting your customers with messaging from the site. While you're at it, you might be able to make use of split automation and customer attributes.
If this all seems a little too complex for you, then it is evident that the program is here to help. You'll receive specialized support by way of three one-on-one training sessions each month, along with comprehensive onboarding assistance.
If you're having issues with your automation, you'll be happy that the package also provides consultation on developing your automation strategy.
This is the entire set of features offered by the Professional plan of ActiveCampaign:
Customer Support and Training Pro implementation, consultations about automation methods, in-depth onboarding consults, and Lite implementation service. Data migration services, controlled delivery of emails, Live chat, and support via email, plus three monthly one-on-one training sessions.
Integrations Branding and rebranding database syncing, API Webhooks, tools for social media and their integrations website and event tracking Basic subscription forms, auto imports from third-party services, and Facebook customized audience integration.
Campaign Features – Predictive messaging Website messaging, split automated SMS-based sending and paid social data five free inbox previews (email testing) each month, sign up via SMS, unlimited email sending, and user-specific permissions with a maximum of 50 accounts for each account. Content that is conditional GPS tracking in-depth reports auto-responders and import of contacts from existing and free email templates. An email drag-and-drop designer Marketing automation newsletters, lead and contact scoring sales automation, integrated CRM Automations map, and customer attributes.
Incredibly, there's little difference between these options and the ones you'll get with what you get from the Plus package. So you could say the Professional plan is a variant of the ActiveCampaign Plus package, with a little more spice in the form of predictive insight.
The most notable distinction between the two plans is the number of accounts. While Plus users are restricted to 25 salespeople and marketers, The Professional plan permits you to add up to 50.
A reasonable extension, I'll admit. But, the picture isn't so rosy concerning the similar price adjustments.
The difference in the beginning rates of the two plans is around $80. This means that the ActiveCampaign Professional plan starts at $129 per month. This is quite a big increase from the rate of $49 for the Plus package.
In addition to the lower cost for annual-billed subscriptions, those who decide to renew their subscriptions monthly pay an astounding 159 dollars per month.
This should be enough to cover as many as 2,500 contacts. That is more than twice the contacts included in the Plus package.
Here's a summary of the various prices that are available at this price:
Up to 2,500 contacts Monthly cost: $129 with annual billing or $159 monthly for the monthly bill.
Up to 5,000 contacts for $199 per month, with annual billing, or $239 per month when your bill monthly.
Up to 10,000 contacts Monthly cost: $279 with annual billing or $349 monthly when you pay monthly.
Up to 25,000 contacts monthly: $479 for annual billing or $599 per month when billing is monthly.
Up to 50,000 contacts and beyond contact the sales team at ActiveCampaign to discuss a customized price.
It's certainly not the most affordable price when you look at the features and features of other plans.
We'll admit that it's true that the ActiveCampaign Professional plan is not quite as balanced as the Plus and Lite packages.
Thus, only businesses with large departments or growing marketing agencies will find it worthwhile, given that this package grants them the option of adding up to 50 users.
ActiveCampaign Enterprise Plan
Although the Plus Professional, Professional, and Lite plans offer a range of powerful tools, however, it's the Enterprise plan that unlocks the full potential of ActiveCampaign.
It adds to the features we've examined, including, among others, the ability to uptime SLA, Automatic discovery of the contacts' profiles on social media, and a custom domain for your mail server and custom reports.
If you're managing a large campaign team, consider this Enterprise pricing plan. Enterprise pricing plan lets the addition of any number of people. You can also add the number of co-workers you'd like.
In short, this ActiveCampaign Enterprise pricing plan was created specifically for high-volume users, like large corporations with multiple marketing and sales departments. They can use these tools to simplify their lead generation across all channels and campaign to nurture leads.
To assist you in implementing the ActiveCampaign system within an enormous organization and to help you deploy it seamlessly, the Enterprise package offers additional assistance.
It extends beyond the typical support offerings to offer individualized services, such as unlimited one-on-one training sessions, an account manager specialized in monitoring reputation and an individual marketing strategy.
Furthermore, regular tickets raised through live chat, email, or phone support channels are processed to provide quick help and resolution. This ensures that businesses are functioning at their best in all instances.
With that in mind, below is a breakdown of the essential features you can expect from the Enterprise pricing plan: Enterprise price plan.
Assistance and training – Customized implementation service Uptime SLA, personal deliverability and reputation monitoring Pro implementation service, consulting regarding automation techniques, in-depth onboarding consults and Lite implementation services, Data migration services, controlled delivery of emails (better delivery rates), Live chat, email-based support, individual training sessions, speedy phone support, live chat, email support and a dedicated account representative with a customized marketing strategy (with monthly updates) as well as telephone support.
Integrations Custom SMS numbers, Custom mail server domain, rebranding Subscriptions to SMS, databases sync, API webhooks Social tools for media and their integrations website and event monitoring, simple subscription forms auto import from third-party service Facebook custom audience integration and a custom URL for the application.
Campaign Features, HIPAA compliance, Predictive Sending Website messaging, split automated SMS messaging, unlimited social data subscription via SMS unlimited sending, customized user permissions and the ability to have unlimited accounts, conditional information Geo tracking and in-depth reports auto responders, and import of contacts from existing Email templates for free, an email drag and drop designer automated marketing, marketing via email newsletters as well as lead and contact scoring sales automation, CRM built-in automated maps customers' attribution to the customer, and an unlimited preview of inboxes (email test).
However the other hand, these features aren't cheap. So expect to pay an extremely high cost for Enterprise. Enterprise package.
The simplest amount you could spend on this is $229 per month. However, that's only if you choose the annual prepay program. If not you can choose the monthly billing option, which will require you to dig deeper into your wallet starting with a monthly cost of $279.
This will, in turn, allow you to run campaigns that involve up to 2500 contacts. If you do have to go over the limit of 2,500, you'll be charged at least $359 per month for the privilege of extending the limit to five thousand contacts.
Here is the complete cost information available on this ActiveCampaign price plan.
Up to 2,500 contacts for $229 per month, with annual billing or $279 monthly for monthly billing.
Up to 5,000 contacts Monthly cost: $359 with annual billing or $449 monthly for monthly billing.
Up to 10,000 contacts monthly: $399 for annual billing or $499 monthly for the monthly bill.
Up to 25,000 contacts and beyond. Contact ActiveCampaign's sales department at ActiveCampaign for a quote tailored to your needs.
Overall Review: Which is the best ActiveCampaign pricing plan?
When do you consider all the cost-related parameters and features we've examined? Which of these plans do you think is the most beneficial ActiveCampaign price plan?
Lite? Plus? Would you prefer to go for Professional? If not, maybe the Enterprise option is the better choice.
If you're contemplating Lite, The good news is that you're going in an appropriate direction. It's a decent pricing plan. However, the problem is that you're still far from being there.
The Lite option is the least expensive and has an adequate array of features; it's not what you'd expect from an actual business. It's only for those who want to understand the basics of email automation.
On the other hand, its Plus, Professional, and Enterprise plans are equipped with what is required to design and run effectively automated omnichannel sales and marketing campaigns.
Additionally, it is the Professional package is a great fit for sales teams due to the numerous lead forecasts that it makes. The Enterprise plan can add these features with a personalized support system and customized branding. This is the only plan that includes all the modern features.
Unfortunately, the ActiveCampaign Enterprise plan is reserved for people with a high budget who can spend hundreds of dollars each month.
So, we're left with two options- the Plus or the professional plan.
It appears they have nearly the same options, with the Professional package incorporating an extra feature occasionally.
Yet, despite its features superiority, it's not equal to the Plus plan Plus option when you look at the cost-features balance of both plans.
Therefore, in the final analysis, the Plus package can give you the most beneficial of both worlds- the perfect blend of omnichannel automation capabilities with a reasonable price for sales and marketing teams. Therefore, we can officially claim it as the top all-around ActiveCampaign price plan.